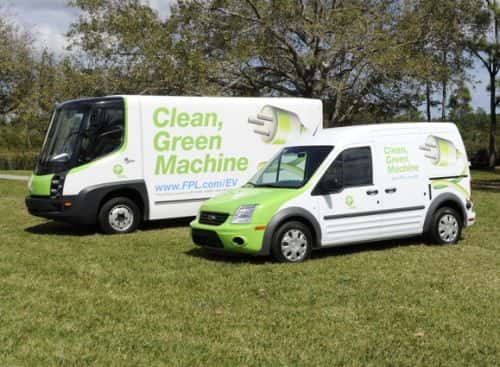 Florida Power & Light Co. (FPL) is the state's largest regulated electric utility, serving more than 4.5 million customers across a huge geographic footprint. As such, the company also operates one of the largest utility fleets in the U.S. – a fleet that is increasingly relying on advanced, clean technologies.
FPL maintains approximately 3,500 pieces of equipment in its fleet. Of that total, about 2,500 are Class 1 to Class 8 over-the-road and off-road vehicles, including roughly 1,350 in the Class 5 to Class 8 range. Pickup trucks, SUVs and passenger cars comprise approximately 1,000 units.
Art Macey, FPL's fleet director, tells NGT News that hybrid-electric vehicles have become a mainstay, and plug-in electric vehicles are growing in importance. The company deployed one of the very first Toyota Prius EVs on the East Coast back in the early 2000s, and the electric fleet has grown substantially since then, to a total of about 550 EVs. The majority of those assets are traditional light-duty hybrid EVs, but FPL has also introduced more than 50 new plug-in hybrid EVs.
Overall, the company's mix of electric cars and trucks is diverse, from Ford Focus, Fusion and C-MAX EVs to the Nissan Leaf, Chevy Volt and Toyota Camry hybrid. FPL also has a handful of battery-electric Ford Transit Connects and some Ford pickup trucks upfitted with hybrid-electric platforms from Quantum Fuel Systems Technologies Worldwide Inc.
'We see the hybrid light-duty vehicles as a no-brainer,' Macey says, noting that the company's existing fleet of Fusion hybrids were running approximately 20,000 miles per year, at a premium of about $2,500 per unit for the hybrid package over the straight-gasoline Fusion. 'They absolutely save us money. The numbers don't lie. These cars pay for themselves in the second year.'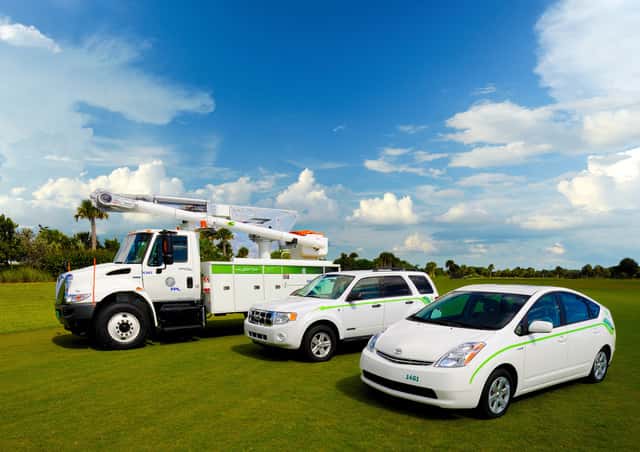 He points out that the Focus or C-MAX (depending on the application) is now the 'standard-issue sedan' for FPL. But notably, the company's electric fleet is not limited to light-duty vehicles. In addition to a few Navistar eStar battery-electric vans, FPL also operates more than 70 hybrid-electric heavy-duty bucket trucks. The company rolled out the first of these International trucks with Eaton powertrains in 2008.
'And this is our first year making a big push with the plug-in hybrid bucket truck,' Macey explains.
Plans call for FPL to deploy between 70 and 75 plug-in hybrids in 2014 – mainly Altec upfits on the Ford F-550 chassis, but also some full-size Odyne bucket trucks and a half-dozen electric vans from VIA Motors.
'That will more than double our population of vehicles that plug in,' he says.
To support its growing complement of plug-in EVs, FPL has installed 63 Level 2 charging stations throughout its territory, including eight that are located under a solar canopy at the company's Juno Beach office. Fifteen of the charging stations also accommodate Level 1 EV charging.
Given that FPL's core business is electricity generation, transmission and distribution, it is perhaps not surprising that the company would emphasize electrification for its fleet. Electricity is clearly very cost-competitive as a fuel source. On top of that, FPL also prioritizes the adoption of EVs to position itself as a leader in this type of transportation technology and as an example to customers – particularly among commercial entities, which would likely find EV fleet deployments similarly cost-competitive.Â
However, FPL's clean fleet is not limited to EVs. More than 1,700 of the utility's vehicles are diesels – the majority of them in higher weight classifications – and all of them run on biodiesel.
FPL is a certified biodiesel blender, which has enabled the company to take advantage of the recently expired $1.00/gallon federal tax credit. FPL has also netted renewable fuel credits through the EPA.
'It lowers our cost of fuel,' Macey says, noting that once all the incentives have been figured into the equation, the biodiesel used in FPL's fleet is about $2.00/gallon. The company has historically run blends as high as B25 in its vehicles, and the fleet consumes roughly 2 million gallons of B20 annually.
The growth of natural gas as a fuel option is not lost on Macey and his colleagues, especially considering recent policy developments in Florida that have made natural gas vehicle deployments even more attractive to large fleets.
But Macey still views the relative lack of compressed natural gas (CNG) refueling infrastructure in the state as a meaningful hindrance to adding substantial numbers of NGVs to the FPL fleet. Its trucks are deployed practically everywhere in the state, and there are too many gaps in the public-CNG-station network.
Also, FPL trucks are often dispatched to areas for days at a time, making even a traditional behind-the-fence, time-fill CNG fueling setup impractical. If the trucks don't return to base, a return-to-base fueling model has real limitations.
However, when asked if he is open to adding NGVs in the future, Macey's answer is unambiguous: 'Absolutely, yes. We've looked at it.'
Consultants have already done legwork investigating the potential for adding natural gas vehicles to FPL's fleet of EVs, but the time isn't right.
' I can see – further down the road – having a combination,' he says.
Photos courtesy of FPL