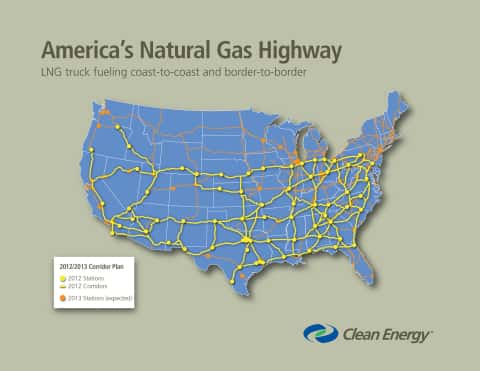 Clean Energy Fuels Corp. has been on track to complete a total of 70 new liquefied natural gas (LNG) refueling stations by year-end, and the company has confirmed that with the completion of a facility in Missouri this month, the milestone has been met.
This network of stations – called America's Natural Gas Highway – has been developed in order to support long-haul Class 8 trucking on U.S. interstates. The LNG fueling stations, many of which are located at existing Pilot and Flying J truck stops, can be found on heavily traveled long-haul routes, such as from Los Angeles to Atlanta, and Atlanta to Chicago. Major corridors in the Midwest and Northeast also now have LNG available.
'LNG-fueled trucks can now travel the country and reap the benefits of fuel cost savings, reduced dependence on foreign oil, and the lower emissions profile that characterizes this abundant American resource,' said Clean Energy President and CEO Andrew Littlefair during ATA's Summit on Natural Gas in Trucking last week.
Clean Energy notes that the company is planning to build another 70 to 80 LNG stations during 2013.