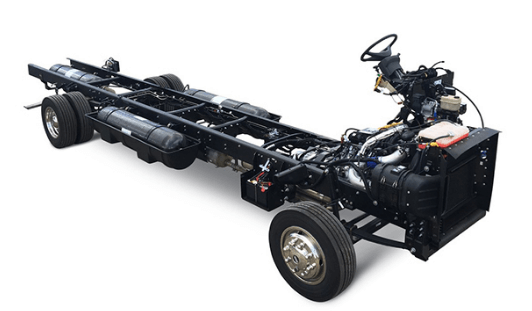 Clean Energy Fuels Corp., Freightliner Custom Chassis (FCCC) and Green Alternative Systems (GAS) have joined together to provide an original equipment manufacturer compressed natural gas (CNG) fueling system on FCCC's CNG MT-45/55 chassis.
According to Clean Energy, the chassis is used in the linen and uniform, parcel and home delivery, vending and food service, baking and snack delivery, and school bus industries.
Per the partnership, GAS will provide the new CNG fueling system for the chassis, which is powered by a 6.0 L V8 engine with three available fuel capacities: 35GGE, 42GGE or 52GGE. Clean Energy will provide fleets using the chassis with fueling agreements and access to its nationwide network of fueling stations.
The natural gas fuel provider says its network of over 550 public and private fueling stations ensures that fleets are powered for both short routes across town and long hauls across America. Clean Energy stations are fueling vehicles in more than 37 major airports, and its strategically located, truck-friendly CNG and liquefied natural gas fueling stations – the network called America's Natural Gas Highway – are designed to keep truck fleets fueled up and on the road.
GAS, a commercial alternative fuel upfitter, is dedicated to designing and installing the highest-quality natural gas, propane, hybrid and electric fuel systems for the transit and fleet industries. GAS offers alternative fuel systems for buses, trucks and commercial vehicles.
Last fall, Ameripride/Canadian Linen, one of the largest uniform rental and linen supply companies in North America, deployed 20 trucks with this fueling system as part of its corporate sustainability program. Ameripride/Canadian Linen has committed to expanding its sustainability program by deploying additional CNG vehicles in its fleet this year.