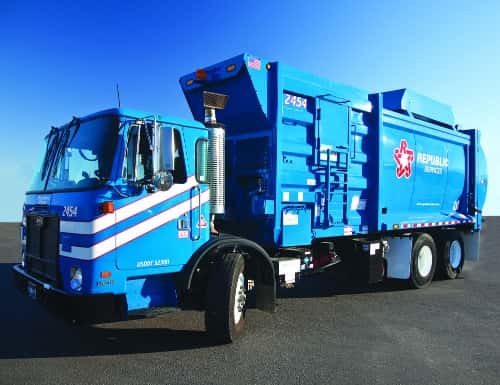 Clean Energy Fuels Corp. says its work to fuel the refuse industry with natural gas continues to steadily expand, providing a significant portion of the company's revenues.
According to the company, it has completed 14 station construction projects for refuse customers in the first six months of the year and expects to complete another 22 by the end of 2015. Clean Fuels notes these stations support some of the U.S.' largest waste companies, such as Waste Management, Republic Services and Progressive Waste Solutions, as well as regional companies, such as Knight Waste, and municipalities, such as the City of Medicine Hat in Alberta, Canada.
"It has become almost a requirement for refuse companies to convert at least part of their fleets to natural gas in order to stay economically and environmentally competitive," comments Raymond Burke, vice president of Clean Energy for business development.
Clean Energy says its refuse business contributes to the company's revenues through three sources. In addition to revenue received from the construction of new stations and expansion of existing stations – as well as the recurring revenues from fuel sales and operating and maintaining stations for long-term refuse customers – more companies are now taking advantage of Clean Energy's Facility Modification Services unit. Clean Energy says Waste Management, Republic Services and others have contracted the company to upgrade vehicle maintenance facilities to comply with all local and national code requirements for a number of refuse customers.
"Despite being the first market to fully adopt natural gas years ago, the refuse industry continues to provide Clean Energy with very healthy growth," says Andrew J. Littlefair, president and CEO of Clean Energy. "The second half of each year typically provides the most robust activity in station construction for our refuse customers, as this is when their new trucks arrive, and we believe 2015 will be no exception."
Clean Energy says it has relationships with over 125 individual waste companies and municipality waste divisions in North America, and over 9,400 refuse trucks fuel at a Clean Energy-built or -maintained station daily.
NGT News recently talked with one refuse company, Republic Services Inc., about its over 2,200 natural gas vehicles and future alt-fuel plans. That article is available here.
Photo courtesy of Republic Services Inc.