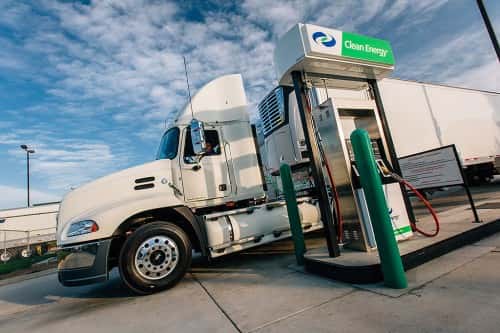 Clean Energy Fuels says that sales of Redeem, its renewable natural gas (RNG) vehicle fuel, more than doubled in 2015 to 50 million gasoline gallon equivalents (GGEs) from 20 million GGEs in 2014.
Redeem sales have expanded from Clean Energy public-access stations in California to become the contracted fuel choice of customers such as UPS, Republic Services, the City of Santa Monica's Big Blue Bus, the University of California, San Diego (UCSD), and others, the company says. Sales of Redeem have also expanded into Oregon and Texas.
Clean Energy launched Redeem in 2013 and has rapidly increased sales as more fleets want to realize the significant reduction in greenhouse gas that Redeem offers as compared with diesel fuel.
According to Clean Energy Fuels, the largest user of Redeem is UPS, which currently fuels close to 400 vehicles in California, and will now take delivery for portions of its delivery vehicle fleet in Texas.
The UCSD became the first university transit fleet to fuel with 100% RNG, fueling its fleet of 52 vehicles, including 19 transit buses, with Redeem. The fleet fuels at the UCSD campus station and is expected to consume approximately 240,000 GGEs of Redeem annually.