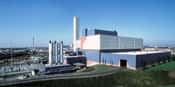 Covanta Energy Corp., a company that owns and operates waste-to-energy plants, is working with natural gas fueling firm Clean Energy Fuels Corp. to co-develop compressed natural gas (CNG) refueling stations at Covanta facilities in the U.S.
Each of these stations will provide CNG for a minimum of 30 refuse trucks a day and, depending on the location, will be publicly accessible. Covanta has more than 40 waste-to-energy sites and 13 solid waste transfer stations – Clean Energy and Covanta will soon identify which sites will get CNG refueling capabilities.
The first Clean Energy CNG station at a Covanta facility will open at the Essex County Resource Recovery Facility in Newark, N.J., later this month. The station will fuel CNG-powered refuse trucks that operate in northern New Jersey and New York City area.
'Covanta Energy is pleased to partner with Clean Energy and help in the conversion of refuse trucks to cleaner, more efficient technologies like natural gas powered vehicles,' says Joey Neuhoff, Covanta Energy's vice president of business development. 'The new CNG stations will complement our operations, as we are committed to limiting impacts to the environment and our communities and providing the cleanest, most reliable source of energy from waste in the world.'