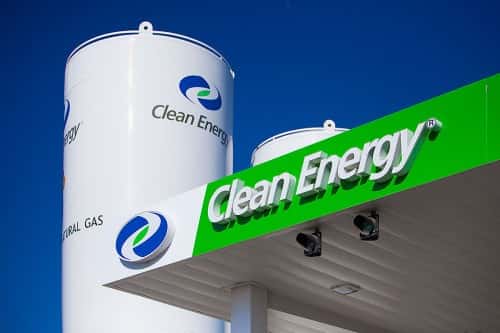 Clean Energy Fuels Corp. has inked a number of fueling agreements with various fleets and plans to open four new compressed natural gas (CNG) fueling stations.
Clean Energy will open CNG stations in Lake Havasu City, Ariz., and Kansas City, Kan., for Seaboard Transport's heavy-duty fleet. Seaboard is contracted to increase its CNG fueling by an anticipated 240,000 DGEs annually for its expanded fleet of 58 heavy-duty natural gas trucks.
The company will also design, build, operate and maintain a CNG station in Santa Clarita, Calif., for refuse company Burrtec. The station, the third for Burrtec, will fuel approximately 22 CNG refuse trucks.
Additionally, Clean Energy plans to fuel approximately 75 heavy-duty liquefied natural gas (LNG) trucks for Potelco Inc. The fleet provides electrical and gas line construction and maintenance services for customers throughout the Northwest and is forecasted to consume approximately 360,000 DGEs of LNG annually.
Ten heavy-duty CNG trucks from Team Campbell Logistics are scheduled to be deployed and to fuel at Clean Energy's Fontana, Calif., station. These additional trucks are forecasted to consume approximately 10,000 DGEs of CNG annually.
Dallas Area Rapid Transit (DART) is also expanding its CNG fleet with 63 additional buses. The vehicles will fuel at DART's four natural gas stations built, operated and maintained by Clean Energy.
Longtime Clean Energy customer SuperShuttle of Austin, Texas, has extended its fueling relationship for its fleet of 20 CNG vans, which fuel at Clean Energy's Austin public-access station.
Public Works of Torrance, Calif., has begun fueling at its private CNG station, which was designed and built and is being operated and maintained by Clean Energy. The station is fueling approximately 35 refuse trucks and 29 transit buses. The Torrance natural gas transit fleet is expected to expand with an additional 26 transit buses in the second quarter.