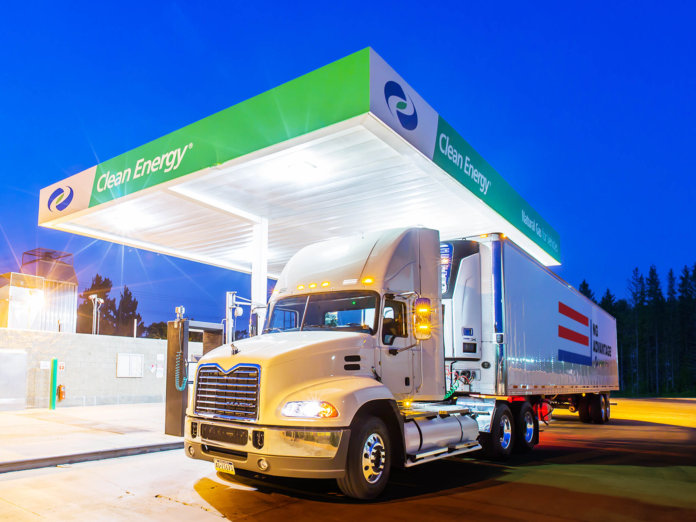 Clean Energy Fuels Corp. has announced a number of expanded commitments throughout the country to compressed natural gas (CNG), liquefied natural gas (LNG) or renewable natural gas (RNG).
First, Brookhaven, N.Y., a Long Island municipality that moved away from diesel to CNG 10 years ago, has extended Clean Energy's contract for another five years. Brookhaven is also becoming Clean Energy's first customer in New York to move to Redeem RNG, with an expected volume of 550,000 gasoline gallon equivalents (GGEs) annually to power 80 new refuse and recycling trucks.
Clean Energy began its relationship with the Long Island community in 2008 when it designed, built and began operating the natural gas truck fueling station that serves Brookhaven, one of the most densely populated areas in the country, the company notes.
Further, three California municipalities have awarded new multiyear contracts to Clean Energy. This includes LNG supply and maintenance services for both the City of Redlands and the City of San Bernardino. The total expected volume from these two municipal stations is over 800,000 GGEs per year. Additionally, the City of Beverly Hills has signed a five-year RNG supply contract for its private time-fill station that fuels an expanding refuse fleet.
In Bellefonte, Pa., Clean Energy has doubled its fueling station's volume annually. Rev Hoopes Trucking plans to fuel its CNG tractors with an expected 240,000 GGEs total volume annually. Advanced Disposal, which owns and operates the landfill and the Centre County Recycling & Refuse Authority (CCRRA), which owns and operates the Transfer Station, has mandated that CNG transfer tractors be used to transport waste and recyclables between the two locations.
Blue Diamond Disposal has added seven new CNG trucks to its station in Mt. Arlington, N.J., bringing the total fleet to 45 refuse trucks. The additional annual volume is expected to be 70,000 GGEs.
TFC Recycling, one of the largest area haulers in the Mid-Atlantic region, has continued to grow its CNG operation over the years. The company chose to renew its maintenance agreement and has plans to expand into new markets, relying on Clean Energy station operations as an integral part of its strategy.
Growth in Fleet Services
Atlantic County Utilities Authority has also added seven new CNG trucks to its station in Egg Harbor Township, N.J. The additional annual volume is expected to be an estimated 84,000 GGEs.
Long-term Clean Energy customer Tidewater Fiber Corporation in Virginia has extended its maintenance service agreement. Its trucks are expected to consume 600,000 GGEs annually.
New in Transit
Clean Energy has inked a multiyear contract to supply Redeem to the North County Transit District, which operates public transit service throughout North San Diego County. The agency has 163 buses and two CNG fueling stations, and it uses approximately 1.5 million GGEs annually.
In Redondo Beach, Calif., Clean Energy won a contract to design, build, operate and maintain a CNG station that consumes 150,000 GGEs annually to power 30 CNG vehicles. In other new business, the Victor Valley Transit Authority, also in California, has signed an LNG supply agreement for its Barstow station for over 400,000 GGEs of Redeem annually to fuel its 60 buses.
Southwest Transportation Agency, a California joint powers authority that operates a fleet of 100 school buses, has signed a new three-year LNG supply agreement and extended its existing maintenance agreement with Clean Energy. Expected volume of Redeem is 250,000 GGEs annually.
Advancements in Transit
The Orange County Transportation Authority in California has renewed its maintenance contract with Clean Energy for its Irvine Sand Canyon facility, which fuels more than 150 buses consuming over 1.5 million GGEs of Redeem annually. Another longtime Clean Energy customer, the City of Phoenix, has renewed its LNG supply agreement for three sites, totaling over 5 million GGEs of Redeem annually to fuel nearly 500 LNG and CNG buses.
The City of Culver City, which operates CNG public transit, refuse and other municipal fleet vehicles at its station, signed with Clean Energy to provide over 700,000 GGEs of Redeem annually. Clean Energy also made modifications to the Culver City station, upgrading its compressors.
"Cities are seeking ways to improve the environmental impact of their vehicles and shield themselves from volatile diesel prices," says Chad Lindholm, vice president of Clean Energy. "RNG, the cleanest fuel available today, is the logical choice of municipal fleets from a variety of geographic regions and markets."