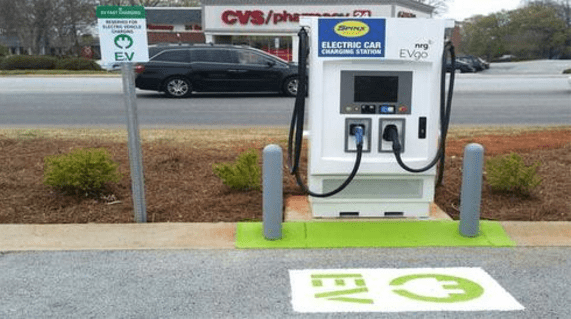 South Carolina Clean Energy Business Alliance (SCCEBA) member Spinx Co. has added Level 3 charging stations for electric vehicles (EVs) to seven of its South Carolina convenience stores. In celebration of the move, Spinx hosted a ribbon-cutting ceremony at its store at 901 Marue Dr. in Greenville.
Spinx Co. says that although the new charging stations are part of Nissan's "No Charge to Charge" program, in which eligible Nissan Leaf owners receive 24 months of complimentary public charging, the new stations can be used for any EV, provided the owner has the vehicle-specific charging port.
Spinx states that these new charging stations can charge an EV in 30 minutes.
"Having easily accessible electric vehicle charging stations across S.C., from the upstate to our coast, is essential. Convenience and ease of use is what will encourage consumers to invest in electric vehicles," says Patricia Pierce, executive director of the SCCEBA. "We are proud to have the Spinx Co. as member of SCCEBA because they are and have been a leader in growing S.C.'s clean energy economy and helping S.C. achieve positive strides in creating clean transportation corridors in our state."
In addition, the company has added Level 3 chargers at the following locations:
8001 Broad River Rd., Irmo;
1414 E. Washington St., Greenville;
697 Fairview Rd., Simpsonville;
7495 Augusta Rd., Piedmont;
1504 Boiling Springs Rd., Spartanburg; and
9636 Highway Station 78, Ladson.
"Now, more than ever, there is a need for clean energy and for easier access to alternative fuel solutions. We're proud to be involved with SCCEBA because of their goals to expand clean energy and better serve our state," says Stewart Spinks, founder and CEO of Spinx.
SCCEBA is a 501(c) (3) nonprofit organization that has been tasked with building a broad-based business alliance that fosters the development of a clean energy industry in South Carolina.