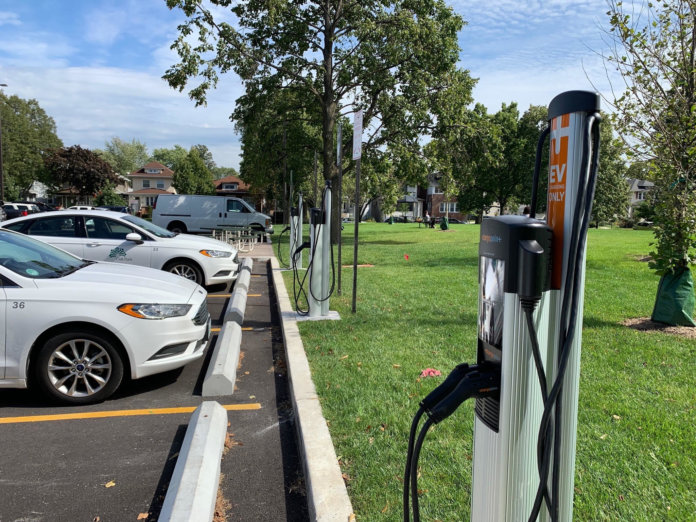 The Chicago Area Clean Cities Coalition (CACC) has announced its 2019 Leadership Award winners, which are given annually to organizations and individuals that take actions to locally reduce petroleum consumption and improve air quality, such as by using cleaner-burning alternative-fuel vehicles, electric vehicles or other advanced technologies.
This year's winners include: Village of Oak Park, Greater Chicago I-55 Truck Plaza, Ozinga and Village of Downers Grove. Tom Thompson, maintenance supervisor for the Forest Preserves of Cook County, was recognized for his Leadership in Public Service. Chicago resident Neda Deylami also was awarded a Community Leadership Award for her efforts to help Chicago transition to environmentally friendly electric vehicles.
CACC Leadership Award winners by category include:
Best Performing Municipality: The Village of Oak Park
The Village of Oak Park is located eight miles from the Chicago Loop. The village is taking many steps to lower the carbon footprint and emissions of its vehicle fleet.
Oak Park recently installed five electric vehicle charging stations at its village hall on Madison Street. There are three stations with six ports for charging municipal vehicles and two charging stations with four ports for charging by EV owners. Along with the installation, the municipality deployed five new all-electric 2019 Nissan LEAFs.
Oak Park, with more than 50,000 residents, is a member of CACC and the B20 Club and is a long-time user of low-emissions biodiesel fuel for the village's diesel fleet vehicles.
Leadership in Public Service: Tom Thompson, Forest Preserves of Cook County
Tom Thompson is the maintenance supervisor for the Forest Preserves of Cook County, one of the largest forest preserve districts in the nation at 70,000 acres. Thompson, who has worked with the preserves for 30 years, has led the Forest Preserves' efforts to make their vehicles and mowers green as a part of an ongoing plan to make operations as environmentally friendly and economical as possible.
Community Leadership Award: Neda Deylami
Chicago resident Neda Deylami devotes much of her personal time to planning educational EV events in communities throughout the Chicago area and Illinois. She has organized and participated in over a dozen events at public libraries, city halls, sustainability fairs and other outreach events, which altogether were attended by hundreds of people in 2019.
Above and Beyond Award: Ozinga
Ozinga is a fourth-generation, family-owned company providing ready-mix concrete, building materials, logistics and alternative fuel solutions since 1928. Ozinga has more than 200 ready-mix concrete mixers running on renewable natural gas in the Chicagoland area.
As of spring 2019, all Ozinga natural gas fueling stations pump renewable landfill gas. With RNG, Ozinga's fleet produces over 4 million kg fewer well-to-wheels greenhouse gas emissions than a comparable diesel fleet every year. Additionally, Ozinga can now help other organizations make the switch to RNG. As a part of station updates, Ozinga also added more electric vehicle charging stations to both the Mokena and Chinatown offices and yards.
Service Station of the Year: Greater Chicago I-55 Truck Plaza
The Greater Chicago I-55 Truck Plaza was one of the first, family-owned and operated, independent truck plazas in the United States to start selling B11 biodiesel in 2006.
After experiencing firsthand the economical, physical, and environmental benefits that biodiesel was having for truck drivers, their trucks, and the environment, Robin Puthusseril, vice president and co-owner of the Greater Chicago I-55 Truck Plaza, along with her father John Puthusseril, decided to take things to a higher level. In 2013, they invested more than half a million dollars to build the infrastructure at their truck plaza to begin blending and selling higher blends of premium biodiesel to all their customers.
Today, B11-B20 premium biodiesel is blended and sold year-round to all their customers at every diesel dispenser. The Greater Chicago I-55 Truck Plaza also offers fleet customers bulk B100 biodiesel for purchase, if needed.
Plugged-In Public Safety Award: Village of Downers Grove
The Village of Downers Grove, a municipality of nearly 50,000 people located in the western suburbs of Chicago, runs 83 percent of the village's fleet on some form of alternative fuel. These alternatives included biodiesel (B20), E-85 (ethanol), compressed natural gas (CNG), propane, solar power, and hybrid combinations. In 2019, the village began using its first plug-in electric hybrid vehicles. The vehicles, used by the Police Department's Community Support Officers, are averaging over 75 miles-per-gallon, replacing Ford Crown Victoria models that only averaged 14 miles-per-gallon.
PHOTO: EV chargers in Oak Park