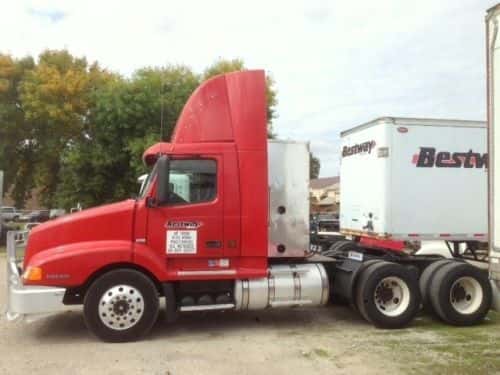 Bestway Express Inc., a heavy-duty carrier that operates more than 275 Class 8 trucks in the eastern U.S., is expanding its use of natural gas in its fleet with additional uptake of Diesel 2 Gas Inc.'s (D2G) dual-fuel diesel/natural gas technology.
The technology is a retrofit application whereby natural gas enriches the incoming airflow to augment combustion, reducing the amount of diesel fuel that is burned. D2G says its system enables heavy-duty trucks to run on up to 70% natural gas, which can be stored on board as either compressed natural gas (CNG) or liquefied natural gas (LNG).
Bestway and D2G have been engaged in the pilot-scale deployment of D2G's dual-fuel system for the last year and a half, according to company president and CEO Elio Muller. He tells NGT News that D2G received a waiver from the U.S. Environmental Protection Agency (EPA) in order to test the system in on-road applications, with Bestway deploying eight trucks: all Volvo chassis, with one D2G system paired to a Caterpillar C12 engine, and the remainder using Cummins N14s.
In a press release, Bestway Express' Will McCormick, director of maintenance, confirmed that the eight-truck fleet was routinely running on 60% to 70% natural gas, which the company supplied via 80 DGE of CNG on each vehicle.
'We have stressed the duty cycle limits of these trucks, running them 800 miles and 24 hours per day, and they've held up well,' McCormick said.
Now, Bestway Express is eyeing 40 additional trucks for D2G conversions. The trucks all use Detroit Diesel Series 60 engines, which is the first family of engines for which D2G is seeking EPA certification. Muller anticipates that the certification, covering up to model-year 2006 12.7- and 14-liter configurations of the Series 60, will be issued soon.
For its part, Bestway Express will be cutting the ribbon on a public-access CNG station in Vincennes, Ind., in the coming weeks to support its growing natural gas vehicle fleet.
More information about D2G and its system can be obtained by calling Angelique Mathena at (813) 251-6070 or visiting d2ginc.com.