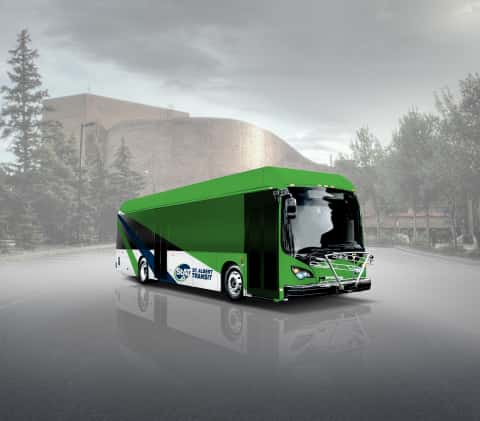 The City of St. Albert, located in Alberta, has taken steps to become the first municipality in Canada to order long-range all-electric buses to deploy on city streets for public transit use. St. Albert has chosen BYD to provide the all-electric buses, which will be delivered to the city in late summer or early fall this year.
The three 35-foot electric buses being purchased will operate on both local and commuter transit routes, making the system cleaner and quieter for St. Albert residents.
"We are excited to be deploying these new and innovative buses as part of our transit fleet," says Mayor Nolan Crouse. "Reducing our carbon footprint and minimizing the impact on the environment is another way to maintain our natural environment for our residents and has been a Council priority for a long period of time."
"We applaud the City of St. Albert for its visionary leadership in demonstrating its commitment to improving air quality with zero-emission, all-electric transportation with this action," says Macy Neshati, vice president of BYD coach and bus sales. "Additionally, these all-electric buses will help reduce noise pollution on city streets to benefit the residents of St. Albert, and the city will save money on vehicle maintenance and fuel costs."
The all-electric buses from BYD will be 35 feet long with a battery range of up to 155 miles. St. Albert chose to award BYD the contract to produce three all-electric buses based engineering, horsepower, safety record, and the company's commitment to providing a 12-year battery warranty,
BYD was also able to demonstrate to the City of St. Albert that its battery technology is durable and reliable enough to function in cold climates, proving through testing that its bus batteries can function below -40 degrees C.