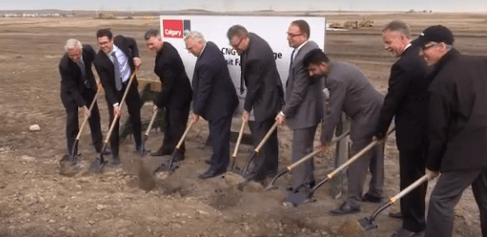 The City of Calgary, Alberta, says it celebrated a groundbreaking event on Oct. 4 to mark the start of construction on the Stoney Compressed Natural Gas (CNG) Bus Storage and Transit Facility, located in the Stoney industrial area in the north-central region of the Canadian city.
According to the city, the new 44,300 square-meter facility will provide storage and maintenance space for Calgary Transit's new fleet of CNG buses, as well as diesel buses that are currently stored outside the city's other bus garages. The complex will be capable of housing a minimum of 424 buses, 36 maintenance bays, two steam cleaning bays, on-site CNG fueling infrastructure, and associated staff facilities. It will also support diesel bus operations, recognizing the transition period needed to introduce CNG buses into the fleet.
"This is a great day for Calgarians as construction begins on this important transit facility," said Mayor Naheed Nenshi. "I'm excited about the economic impact the construction of this facility will bring to the city and the permanent jobs created with the operation and maintenance of this bus storage and transit facility."
Capital cost for this project is approximately C$174 million. Calgary notes that the federal government, through PPP Canada, has committed to an investment of up to C$48.4 million toward the construction of this facility.
The city says it signed a fixed price agreement with Plenary Infrastructure Calgary LP to design, build, finance and maintain the Stoney Transit Facility. Plenary Infrastructure, a consortium of Plenary Group (Canada) Ltd. and PCL Investments Canada Inc., was chosen after extensive evaluations following a competitive procurement process.
Other team members include PCL Construction Management Inc. (design – builder), AECOM Canada Ltd. (lead designer), and Johnson Controls Canada LP (facilities management).
Once the facility has been constructed and is operational, Plenary Infrastructure Calgary LP will receive a substantial completion payment, followed by a series of monthly payments from the city over a 30-year period. The monthly payments will cover janitorial services, routine facility and landscape maintenance, as well as major maintenance and rehabilitation of the facility for the duration of the 30-year contract. City staff will continue to service and maintain the buses.
The city expects the facility will be completed in early 2019.
Photo courtesy of Calgary