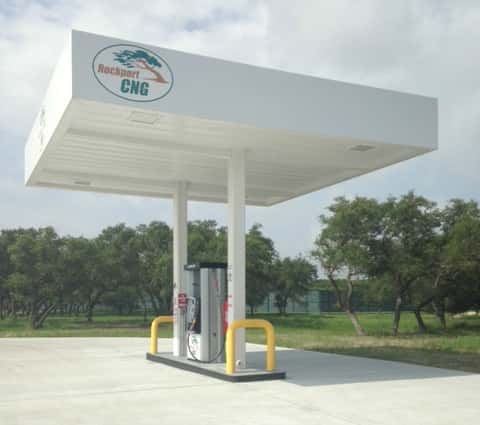 The City of Rockport, Texas, and a school district have teamed up to open two new compressed natural gas (CNG) fueling facilities. The parties held a grand opening celebration on Tuesday.
The city notes that the main facility is located at 1845 Stadium Dr., adjacent to a community center and skate park. It is a stand-alone fueling station for both commercial and personal CNG vehicles, as well as offers 24/7 accessibility and a point-of-sale program that accepts credit card payments.
The second facility, meanwhile, is housed near the Aransas County Independent School District's (ACISD) fleet storage area between the middle and high schools and also includes a compressor and storage.
ACISD's facility is for the sole use of the school district's vehicles. The district currently operates two CNG buses, and two additional ones are on order. The city will receive a CNG pickup truck later this month for use by its public works department.
The city says both entities will gradually convert their fleets to CNG vehicles, which are expected to provide significant fuel savings, lower emissions and lower maintenance costs.
The city and ACISD entered into a mutual agreement for a CNG fueling station in 2014. The school district provided, via a lease agreement, the land for the stand-alone station and the ACISD facility. Funding for the project was made possible through a certificate of obligation, which was issued last July.
Zeit Energy served as the city's construction manager at risk. TRC, an engineering, consulting and construction management firm, designed the project, and Palacios Marine and Industrial provided construction. Total cost of the project was $1.8 million.
Photo courtesy of the City of Rockport, Texas