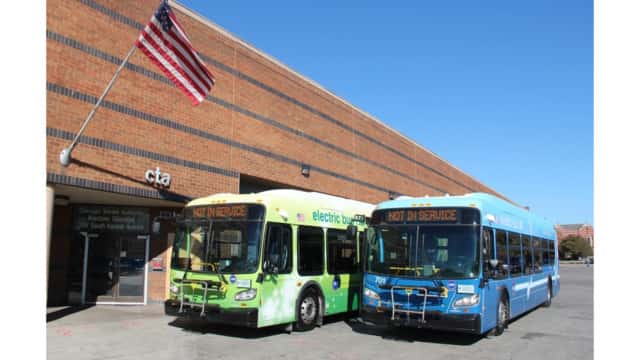 The Chicago Transit Authority (CTA) will purchase between 20 and 30 additional all-electric buses in the next few years, building on Mayor Rahm Emanuel's commitment to make Chicago an environmentally friendly city.
"Chicago continues to be a leader in finding innovative ways to deliver world-class transportation," says Emanuel. "Expanding the CTA's electric bus fleet provides customers with dependable service while continuing my commitment to making Chicago the greenest city in the world and protecting the environment for future generations."
The CTA already uses two all-electric buses as part of daily service on several routes citywide having begun in October 2014. The agency says the pair of 40-foot electric buses manufactured by New Flyer Industries is capable of traveling over 80 miles on a single charge, carrying approximately 100,000 passengers over 25,000 in-service miles without any significant mechanical or performance issues.
In addition to an expected $25,000 of fuel savings per bus, the CTA also says each electric bus will produce about $55,000 in "health savings" for the city. About 15% of the CTA bus fleet uses hybrid-electric propulsion, and the city plans to spend up to $40 million on new buses and the supporting charging infrastructure. However, the new electric buses may not necessarily come from New Flyer.
The buses are part of a larger modernization effort of the CTA's buses and trains spearheaded by Emanuel.  Since 2011, the CTA has added more than 2,000 new rail cars, new buses and overhauled buses to make them "like new," providing Chicagoans with the newest rail and bus fleet in a generation.