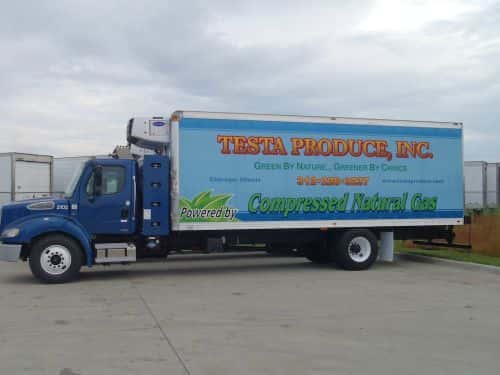 Fleets in the Chicago area are saving money, reducing the U.S.' dependence on foreign oil and helping to improve air quality by using alternative fuels to power their vehicles, according to the Chicago Area Clean Cities Coalition.
On Thursday morning, in an effort to teach businesses and municipalities about the benefits of alt-fuels, the coalition hosted a fleet education seminar focusing on propane autogas and compressed natural gas (CNG). Two Chicago-based companies, GO Airport Express and Testa Produce Inc., shared their successes about transitioning to the alternative fuels.
John Walton, vice chairman of Chicago Area Clean Cities, said, 'We like to help get these stories told so that other organizations can learn from these examples and explore green, money-saving solutions for operating their own fleets.'
GO Airport Express, a major shuttle service that operates out of Chicago O'Hare International Airport and Chicago Midway International Airport, has nearly 60 shuttle vans fueled by propane, which accounts for 80% of its vehicle fleet.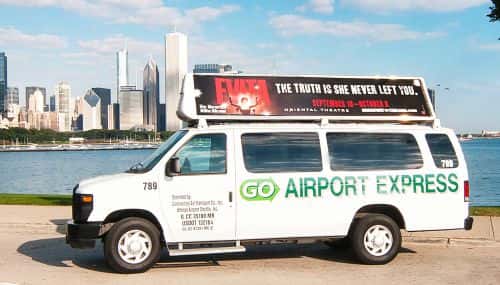 GO Airport Express began exploring alternative fuel options for its vehicles that travel between Chicago's airports and downtown hotels when gasoline prices skyrocketed throughout the nation in 2011.
"We needed an alternative fuel that would not only save us money, but decrease our carbon footprint without sacrificing performance and having zero effect on our passengers' comfort," said Robert Hann, vice president of marketing at GO Airport Express. "After analyzing the return on investment, we selected propane autogas as our preferred fuel."
GO Airport Express' autogas vans account for half of the company's total fleet servicing downtown hotels. Since switching to autogas, Hann has been pleased with customer and employee reactions to "greening" the fleet. He even believes the switch has helped the company secure new business.
"We survey our customers, and being green is very important to them," Hann said. "Chicago is a big convention town, so when we're marketing to conventions, that's another feather we can tout – that we have a green fleet. I think the conventions appreciate that, as they're looking for ways to go green."
Testa Produce, which provides foodservice to restaurants, hotels, hospitals, country clubs, sports venues and catering services, has 14 delivery trucks and one Class 8 tractor that are powered by CNG. The company is also adding five additional CNG trucks to its fleet in November.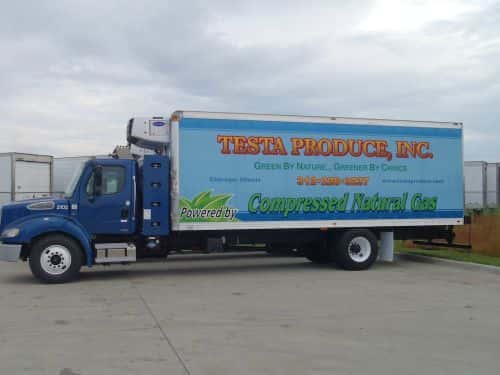 Prior to piloting electric and CNG trucks, Testa Produce was one of the first companies in the Chicago area to convert its entire delivery fleet to biodiesel, as well as all of its company cars to hybrids, said Barbara Daly, facilities and quality assurance manager at Testa Produce.
"Our 24-foot refrigerated CNG trucks have replaced existing biodiesel trucks, helping us to lower our carbon footprint even more and bringing us closer to our goal of zero dependence on foreign oil within five years," she said.
According to Daly, Testa Produce's CNG trucks are quieter, have lower emissions, and require less maintenance than diesel/biodiesel trucks, with no loss of power or mileage. In addition to being more eco-friendly, the new trucks deliver substantial cost savings over diesel and biodiesel fuels, she added.
"Having a fleet of CNG delivery vehicles is in line with our commitment to raising the bar on sustainability in the foodservice distribution industry," Daly said. "We are always looking for innovative, cost-effective ways to reduce our carbon footprint."
Photos courtesy of the Chicago Area Clean Cities Coalition