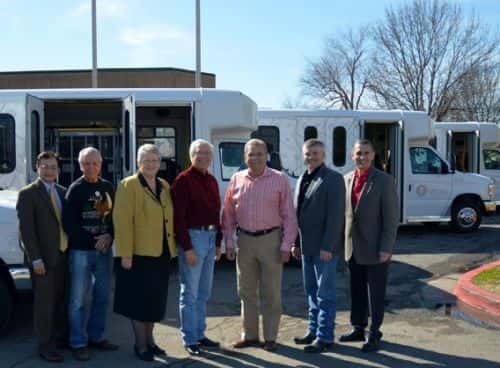 The Cherokee Nation in Oklahoma has replaced four gasoline-powered transit buses with new models that run on compressed natural gas (CNG).
Under the tribe's transit program, the buses will shuttle Cherokee citizens to health appointments, jobs and grocery stores. The Cherokee Nation bought the CNG vehicles using a $300,000 Federal Transit Administration grant it won last spring and was one of two tribes in Oklahoma to receive the funds.
"Transitioning our bus fleet to CNG means the Cherokee Nation transportation efforts are now more environmentally friendly, more efficient and more cost-effective in the long term," says Cherokee Nation Secretary of State Chuck Hoskin Jr.
"By using CNG, we'll be able to get better miles per gallon, stretch our dollars and lead by example," he continues. "Because Oklahoma is an international leader in CNG production, we are utilizing a local fuel source to power the Cherokee Nation's fleet. That supports good jobs in Oklahoma."
The Cherokee Nation contracts with four transportation companies in northeast Oklahoma for its transit program. The tribe will lease three of the CNG buses to Ki Bois Area Transit System and the other bus to Pelivan Transit.
"Our contracted providers likely would not have the funds to purchase buses like these on their own, so by us providing these more efficient vehicles and them providing the service, it's beneficial to our entire community," says Michael Lynn, director of the Cherokee Nation Roads Department.
Photo courtesy of the Cherokee Nation