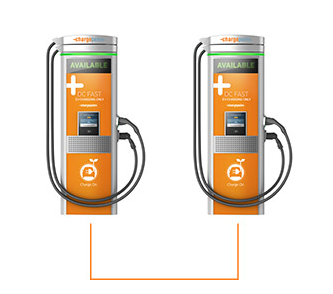 ChargePoint, an electric vehicle (EV) charging network, has now announced ChargePoint Express Plus, the ultra-fast DC charging solution that is "ready for the electric cars, buses and trucks of today and tomorrow."
According to ChargePoint, Express Plus can charge the newest EVs, such as the Chevy Bolt EV, at their maximum rate; is equipped to charge upcoming EVs, such as the Tesla Model 3; and is ready to deliver maximum charging speed to EVs coming to market in the years to come.
A modular platform designed for businesses and charging centers along major roadways or transit depots, Express Plus can deliver up to 400 kW to an EV.
Ubiquitous charging networks that support both local and long-distance electric travel will transform how we get around, the company says. EVs with more than 200 miles of range will accelerate already rapid EV sales growth and are expected to reach 35% of global new car sales by 2040, according to Bloomberg New Energy Finance.
Long-range EVs will need ultra-fast DC charging for long-distance trips, while electric buses and service trucks require high-power charging for their daily routines. ChargePoint says its Express Plus solution addresses current charging requirements with a platform that allows site owners to easily add capacity to meet future demand.
"Express Plus is a platform built to support ChargePoint's vision for the future of DC fast charging: ultra-fast, scalable and incredibly efficient charging that's conveniently located where drivers need it for long trips," says Pasquale Romano, CEO of ChargePoint. "Express Plus charging centers can start small and grow as needed by adding charging capacity without further construction. Together with our commercial and residential charging solutions, Express Plus completes the technology offering required to make fully electric transit a reality."
With ChargePoint Express Plus, charging site operators can design for the long term and incrementally build out charging infrastructure to meet driver demand without any stranded investment along the way. The company says its product intelligently allocates power among vehicles so every car charges as fast as possible, getting drivers back on the road quickly, while making efficient use of the power available at each site.
Along with the Express Plus platform, ChargePoint Express 250, a stand-alone DC fast-charging station capable of adding 90 miles of range in 30 minutes, was also introduced.
As reported, Express Plus will be available in July.
Photo courtesy of ChargePoint.