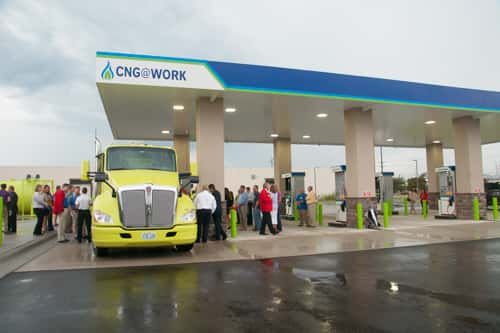 CarterEnergy, a division of World Fuel Services Corp., recently celebrated the grand opening of its first public-access compressed natural gas (CNG) station, located at 401 Kindleberger Rd., Kansas City, Kan.
The station was built just north of CarterEnergy's new product distribution center in the Fairfax district and will provide a resource for area fleets to fuel their vehicles with the alternative fuel.
Jim Prosser, vice president of commercial fuels for CarterEnergy, noted that the station will also offer diesel and diesel exhaust fluid.
'Traditionally, most CNG cardlock facilities have just CNG, so we have a unique situation where we can provide fuel to numerous types of customers,' said Prosser. 'It's been a long time coming, and we're very excited to have it open. We have had a lot of interest in the site, from both customers and others, since we broke ground.'
CarterEnergy says the build is a project under CNG@WORK, a full spectrum program that helps fleets convert to CNG. Services include natural gas supply, CNG vehicle and refueling infrastructure consulting, and turnkey CNG station financing and development. The station is CNG@WORK branded.
"Over its 55-year history, [CarterEnergy has] provided quality gasoline and diesel and ethanol, and now today, they're adding natural gas, and that is exciting to see," said Kelly Gilbert, coordinator of the Kansas City Regional Clean Cities Coalition and transportation director of the Metropolitan Energy Center.
"Today, natural gas is a popular – and practical – option," continued Gilbert. "Basic developments in the last two years [allow you to] buy CNG engines to replace diesel ones in almost any size truck for almost any size job. The only problem anymore is where to buy fuel. CarterEnergy just solved that problem for … all the companies that operate big rigs out of Fairfax or come through here on their regular routes."