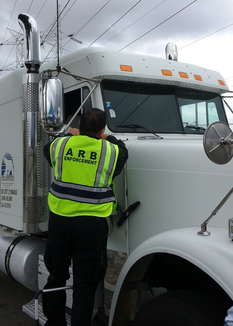 In its latest announcement, the California Air Resources Board (CARB) says it will be working alongside the California Highway Patrol to conduct inspections on heavy-duty trucks traveling in and around the Port of Oakland.
According to the agency, this effort is part of CARB's ongoing enforcement campaign to ensure that clean air requirements are understood and that big rigs are in compliance with the laws designed to improve air quality throughout California.
In addition, the inspections are also part of the California Environmental Protection Agency's effort to focus special attention on disadvantaged communities. As reported, neighborhoods near the port experience higher impacts from port-related air pollution than those located farther away.
CARB says uniformed representatives will be inspecting trucks for excess smoke, proper emissions control labels, tampering, compliance with regulations requiring soot filters on trucks and transport refrigeration units, and SmartWay aerodynamic equipment designed to increase fuel economy.
Last month, CARB released its proposed plan to reduce greenhouse-gas emissions by 40% below 1990 levels by 2030, marking the most ambitious target in North America.
The state has been pushing hard for emissions reductions over the past decade through a series of actions and advances in technology, including cleaner, more fuel-efficient cars and zero-emission vehicles; low-carbon fuels; renewable energy; waste diversion from landfills; water conservation; and improvements to energy efficiency in homes and businesses.
Including enhanced focus on zero- and near-zero-emission vehicle technologies and greater use of low-carbon fuels, the proposed plan outlines the most effective ways to reach the 2030 goal, including continuing California's cap-and-trade program.
CARB says the plan reflects input from dozens of public workshops and community meetings and input from CARB's Environmental Justice Advisory Committee and many other stakeholders. The Final 2017 Scoping Plan Update will be released in late March and be considered for approval by the board in late April.