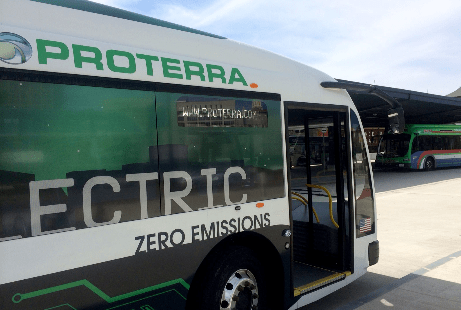 The California Air Resources Board (CARB) has awarded funding to the San Joaquin Valley Air Pollution Control District to deploy 15 Proterra Catalyst buses, 11 Proterra depot-chargers and four Proterra fast-chargers in order to improve local air quality and public health in disadvantaged communities throughout the San Joaquin Valley.
According to Proterra, the manufacturer will deploy its zero-emission, battery-electric buses and charging stations throughout the valley, including the City of Visalia Transit Division, Fresno County Rural Transit Agency, California State University Fresno, San Joaquin Regional Transit District and City of Modesto Transit Services.
"This project demonstrates how California's leadership in clean-vehicle innovation is benefiting all Californians," says Matt Rodriquez, California secretary for environmental protection. "These zero-emission buses will be built in California and driven in California, cleaning the air and serving the public transit needs of disadvantaged communities up and down the San Joaquin Valley."
Mary D. Nichols, CARB chair, comments, "The state's investment of proceeds from the cap-and-trade program for made-in-California electric buses is a smart move. It generates new clean tech jobs right here in our state and helps replace dirty buses – that generate high levels of pollution – with buses that have no tailpipe emissions at all. This investment supports the market for larger zero-emission vehicles, cuts greenhouse gases and delivers cleaner air where it is most needed: disadvantaged communities throughout the San Joaquin Valley."
According to the agency, CARB's investment from the Zero-Emission Truck and Bus Pilot Program will create advanced technology hubs and provide direct economic, environmental and public health benefits to disadvantaged valley communities, while also serving as a regional model that supports economies of scale in manufacturing, training, maintenance and vehicle-to-grid integration.
As reported, the valley-wide electrification project will further help drive down vehicle costs and offer immediate opportunities for shared infrastructure, spare parts and workforce training. Opportunities for technology transfer will also help drive additional deployments of zero-emission, heavy-duty vehicle technologies throughout California and North America.
Proterra will manufacture the buses and charging infrastructure at its newest facility in Southern California, which was partially funded by the California Energy Commission.
"Faced with climbing populations and increased socioeconomic stratification, urban ecosystems are being pressured to renovate their transportation networks to meet the needs of all residents – marginalizing none and prioritizing all," says Ryan Popple, CEO of Proterra. "We are pleased to be working with the San Joaquin Valley Air Pollution Control District on democratizing electric mobility, bringing state-of-the-art technology to the residents of the Central Valley."