Emterra Environmental, a Canadian refuse and recycling company, has opened a new compressed natural gas (CNG) station and launched a fleet of CNG collection trucks in Chilliwack, British Columbia. The company provides services for the City of Chilliwack and says the station and trucks represent an overall investment of C$5.25 million.
Last week, Emterra held a grand opening ceremony for the CNG station, which will also be available to the public soon. The company says its 15 new CNG trucks are currently filling up at the facility, and Emterra has plans to further expand its CNG fleet in Chilliwack and across its footprint.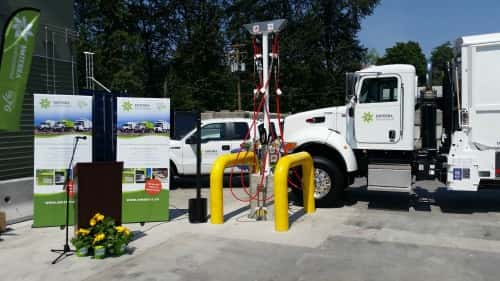 "We're blazing the trail in building CNG fueling stations for our own CNG fleets because we see the economic and environmental benefit of it. But we're also improving the environmental health of BC by opening up this station for use by other CNG fleet owners and operators and members of the public," said Emmie Leung, Emterra founder and CEO, at the ceremony.
Emterra partnered with California-based Clean Energy Fuels to build and operate the new CNG station. Notably, Clean Energy's CNG compressor division, IMW Industries (recently rebranded Clean Energy Compression), is headquartered in Chilliwack.
'We applaud Emterra for its leadership in providing access to cleaner natural gas for vehicles in the Fraser Valley area," said Iain Johnstone, Clean Energy Fuels' regional manager for Canada. "Natural gas as a transportation fuel can provide environmental and economic benefits for fleets of all sizes."
Emterra says this is the second of four CNG stations the company is establishing in Canada. The first was opened in 2012 in Winnipeg, Manitoba. The third will open this summer in Victoria, British Columbia, and the fourth in Mississauga, Ontario, later in the year.

The company says it currently has about 475 trucks in its entire fleet, and by the end of this year, Emterra plans to have a total of 200 CNG trucks operating throughout British Columbia, Manitoba and Ontario. According to Emterra, CNG is a lower-cost fuel that provides environmental benefits, and the CNG trucks also significantly lower noise pollution.
Photos courtesy of Emterra Environmental