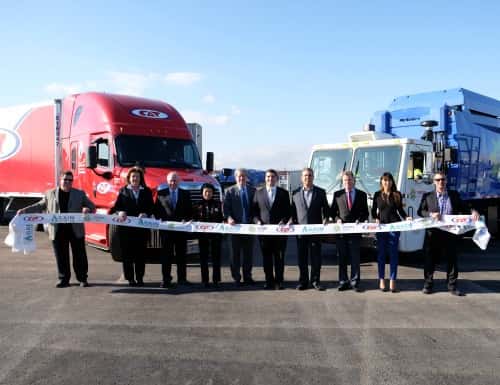 Three companies have teamed up to launch Canada's largest public-access compressed natural gas (CNG) station. Located at 1611 Britannia Rd. in Mississauga, Ontario, the GAIN Clean Fuel-branded station was built through a partnership among U.S. Venture Gain Fuel Canada, Emterra Group and C.A.T. Inc. The fast-fill station will fuel Emterra's regional fleet of more than 100 waste and recycling collection trucks and C.A.T.'s fleet of 100 CNG trucks.
Marc-Andre Paquin – business development manager of U.S. Venture Gain Fuel Canada, developer and owner of the new CNG station – said he was thrilled about the opening of the new facility.
"Partnering with two well-known and respected companies created a great opportunity for us to continue Gain's growth in Canada," he stated at a Monday celebration event. "We're continuing to look for new opportunities and new partnerships to expand the international GAIN Clean Fuel network."
Meanwhile, Emterra says this represents the fourth CNG station in the company's network, with the first having opened in Winnipeg, Manitoba, in 2012; the second in Chilliwack, B.C., in May 2015; and the third in Victoria, B.C., earlier this month. Emterra, which won the contract to service the Region of Peel starting in January 2016, states the new station and CNG fleet will help maintain the company's commitment to reducing emissions and will allow it to spread that initiative to the region.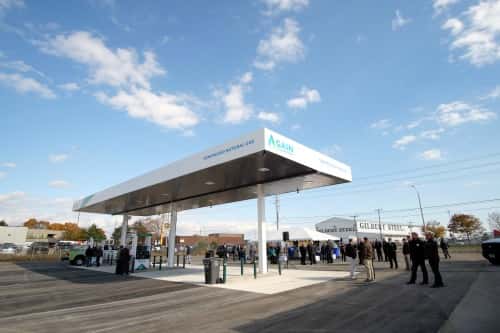 Emmie Leung, Emterra's founder and CEO, said, "The fast-fill station will be open to other fleets and operators of CNG vehicles, expanding opportunities for the transportation sector in and around the [Greater Toronto Area] to 'go greener' using a lower-cost fuel in their operations, helping to make Ontario trucking businesses more competitive and sustainable."
The new station will also provide strategic benefits to C.A.T., a carrier formerly known as Canadian American Transportation Inc., because the facility is located next to the company's new heavy-duty truck maintenance facility.
"The convenience of having this alongside our new facility, combined with the significant cost savings, provides great advantages," said C.A.T. President Dan Goyette. "We're looking forward to leveraging the advantages of this station, and the other four stations we've partnered on with GAIN Clean Fuel, to provide the superior service our customers expect while meeting our goal of reducing emissions."
Ontario's Minister of Environment and Climate Change Glen Murray also spoke at the grand opening event.
"Using compressed natural gas for vehicle fuel has many advantages, such as being clean, affordable and readily available," he noted. "This is the type of innovation to help keep Ontario strong and prosperous."