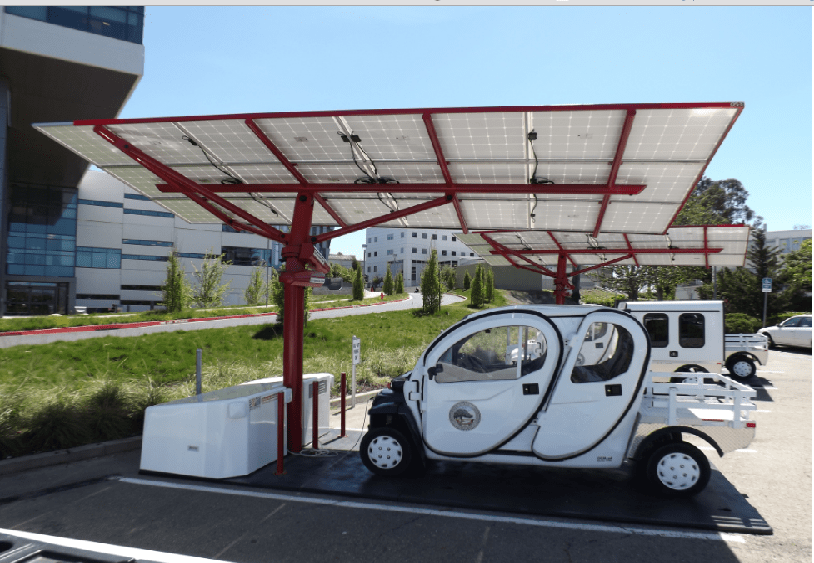 Envision Solar International Inc., a renewable energy, media and branding, and electric vehicle (EV) charging product company, says it has deployed the first of its patented EV ARC products for the California State University System.
According to Envision, the EV ARC models will be used to exclusively power Cal State East Bay's All Green Fleet. The university's purchases of EV ARC units were made as part of the California state contract awarded to Envision Solar in 2015.
Envision asserts that Cal State East Bay is the first university in California to deploy transportable solar-powered EV charging stations.
"Envision's EV ARCs enable us to dynamically scale our charging needs and, most importantly, to ensure that our electric vehicles are 100 percent emissions free," says Derrick Lobo, manager of parking and transportation services at California State University, East Bay. "The speed and ease of the environmental impact-free installation was also a big benefit for us and saved us a lot of time and financial resources that would have been spent on bringing electrical power to our desired location."
Invented and manufactured in California, the EV ARC product fits inside a parking space and does not reduce available parking in any way, says Envision. The company asserts that the ARC generates enough electricity to power up to 150 miles of EV driving each day.
The system's solar electrical generation is enhanced by the patented EnvisionTrak system, which causes the array to follow the sun, generating 18% to 25% more electricity than a fixed array, according to the company. The energy is stored in the EV ARC product's energy storage for charging day or night. Envision says that the EV ARC product can be deployed in minutes and can be easily moved to new locations, considering it does not require trenching, foundations or installation work of any kind.