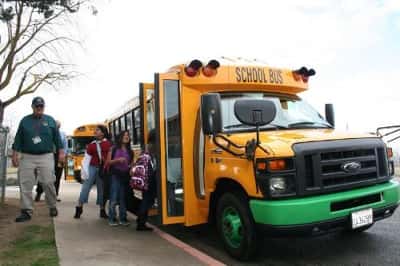 Kings Canyon Unified School District (KCUSD), located in California's San Joaquin Valley, has deployed four all-electric school buses from Trans Tech. The vehicle, dubbed the SST-e, features electric powertrain technology from Motiv Power Systems.
'KCUSD has taken major strides to reduce diesel particulate emissions by as much as 85 percent,' says Jason Flores, the district's transportation director. 'Going electric with these new green school buses is just one more important step in KCUSD's ongoing portfolio of measures to protect our children, serve our community, and be good stewards of our environment.'
The SST-e is built on a Ford E-450 cutaway chassis. When equipped with Motiv's proprietary Powertrain Control System (ePCS), each bus will save KCUSD an estimated $10,000 annually in fuel and maintenance costs.
Trans Tech notes that the SST-e is available in models offering 80 or 100 miles of range. The bus can hold 25 students, or 18 students with a wheelchair lift and configurable track seating for up to 3 wheelchairs.