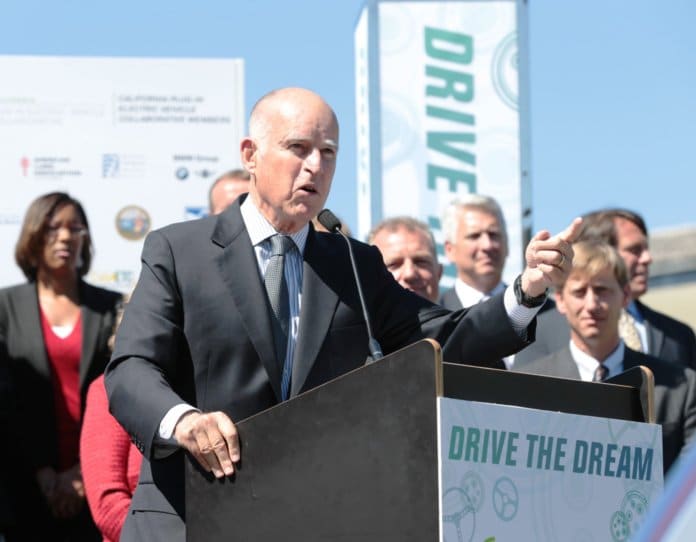 Gov. Jerry Brown, D-Calif., has signed an executive order to boost zero-emission vehicles (ZEVs) and charging and hydrogen fueling stations in California.
The order, B-48-18, directs all state entities to work with the private sector and all appropriate levels of government to put at least 5 million ZEVs on California roads by 2030. The governor's new target of 5 million ZEVs, originally announced in his final State of the State address last week, raises the state's current goal of 1.5 million ZEVs by 2025.
According to the order, California has increased the number of ZEVs in the state by 1,300% in six years – growing from 25,000 in 2012 to more than 350,000 today – and ZEVs now account for approximately 5% of all new car sales in California.
Brown has also proposed a new eight-year initiative to continue the state's clean vehicle rebates and spur more infrastructure investments. The order says this $2.5 billion initiative will aim to help spur the construction and installation of 200 hydrogen fueling stations and 250,000 ZEV chargers, including 10,000 direct-current fast chargers, in California by 2025.
Brown's order also directs all state entities to continue partnering with regional and local governments to streamline ZEV infrastructure installation processes wherever possible. As part of this effort, the Governor's Office of Business and Economic Development will publish a Plug-in Charging Station Development Guidebook and update the 2015 Hydrogen Station Permitting Guidebook.
According to a release from the governor's office, the new executive order builds on the Brown administration's past efforts to boost ZEVs, including legislation signed last year and in 2014 and 2013; adopting the 2016 Zero-Emission Vehicle Plan and the Advanced Clean Cars program; hosting a Zero-Emission Vehicle Summit; launching a multi-state ZEV Action Plan; co-founding the International ZEV Alliance; and issuing an executive order in 2012 setting the state's previous target of 1.5 million ZEVs by 2025.
Advanced Energy Economy (AEE), a national association of businesses, has praised Brown for his new executive order.
"Following the tremendous leadership shown on advanced energy and transportation issues in his final State of the State address, Gov. Brown issued an executive order outlining his vision for the next decade and beyond," says Amisha Rai, senior director of California policy at AEE. "We applaud the governor's order to establish a firm financial foundation for long-term support of vehicle electrification across the range of sizes and types, as well as his directive to greatly expand the network of electric vehicle charging stations and hydrogen refueling stations."
In a separate statement, Simon Mui from the Natural Resources Defense Council, says, "Governor Brown's goal to put at least 5 million electric vehicles on the road by 2030 is achievable and will move the nation toward clean cars. Electric vehicles clean the air, reduce our need for oil, and save consumers money at the pump."
In addition to the executive order, Brown has also detailed the new plan for investing $1.25 billion in cap-and-trade auction proceeds to reduce carbon pollution and improve public health and the environment.
The governor's press release says California Climate Investments projects include affordable housing, renewable energy, public transportation, zero-emission vehicles, environmental restoration, more sustainable agriculture and recycling, among other projects. At least 35% of these investments are made in disadvantaged and low-income communities.
"This executive order aims to curb carbon pollution from cars and trucks and boost the number of zero-emission vehicles driven in California," says Brown. "In addition, the cap-and-trade investments will, in varying degrees, reduce California's carbon footprint and improve the quality of life for all."
File photo courtesy of the governor's website