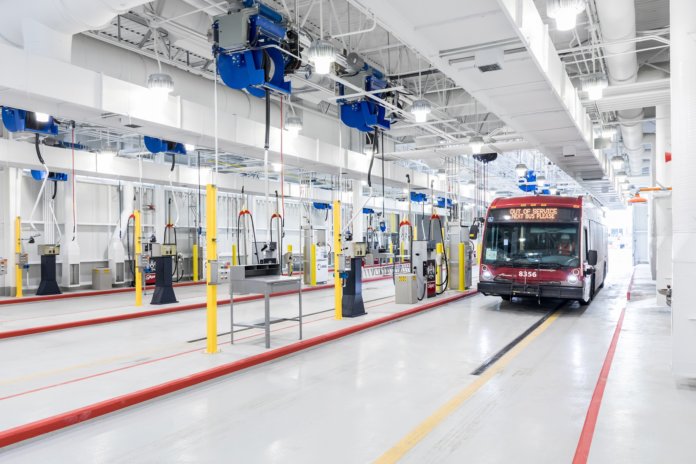 The Canadian Council for Public-Private Partnerships (CCPPP) says the City of Calgary's Stoney CNG Bus Storage and Transit Facility has earned silver in its annual National Awards for Innovation and Excellence in Public-Private Partnerships.
One of three silver winners (and two gold), the facility near the Calgary International Airport can hold more than 500 standard 12-meter buses and is the largest indoor compressed natural gas (CNG) bus fueling complex in North America (and one of the largest in the world).
The partners involved in the Stoney CNG Bus Storage and Transit Facility are the City of Calgary and Plenary Infrastructure Calgary (Plenary/PCL/JCI).
"The City of Calgary is delighted to be recognized for our world-class LEED Gold CNG bus transit facility. The design-build-finance-maintain (DBFM) approach and our collaboration with Plenary Infrastructure LP allowed us to deliver this project on time and within budget," says Doug Morgan, acting general manager, transportation, for the City of Calgary. "Investments in transit are among the best investments any city can make to improving the environment, reducing congestion and improving mobility."
The Stoney facility opened in March. AECOM Canada Ltd. designed the facility, while PCL Construction Management Inc. served as the construction lead. Facilities management is provided by Johnson Controls Inc.