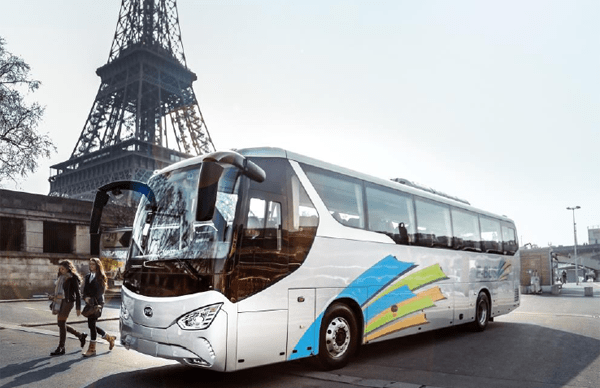 Public transport operators and authorities in Paris were on hand for Chinese electric car maker BYD to reveal what it says is the world's first all-electric coach bus.
The BYD electric coach is currently under homologation testing prior to its introduction in Europe. BYD chose Paris because of a drive initiated by the city's mayor, Anne Hidalgo, to reduce pollution from heavy-duty vehicles. Paris is one of several European cities working to encourage drivers to ditch diesel engines in favor of electric vehicles.
BYD's electric coach boasts a driving range of about 125 miles per charge under typical operating conditions and a recharge time of about 2.5 hours. BYD says its electric coach bus could complete many coaching applications in and around cities, such as shuttle services, city sightseeing, and hotel and airport feeder services.
Last week, BYD introduced its first all-electric double-decker bus in London, and earlier this year, it secured an order for 85 electric transit buses for the Antelope Valley Transit Authority.
"We'll shortly be announcing our introduction plans for our coach in Europe, with France as our first market," says Isbrand Ho, managing director of BYD Europe. "Many of the technologies we have developed about our city bus range – also with experience of millions of kilometres of in-service running – are applicable to this new model, the BYD pure electric coach."
Ho revealed details of a new BYD sales team in France joined by Bertrand Berger, who has extensive experience in the French bus and coach market.