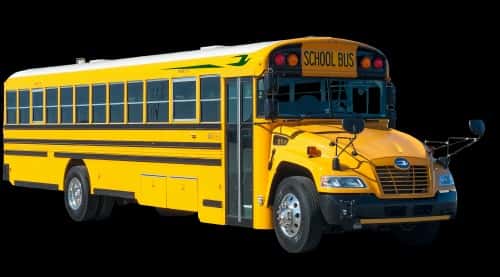 Blue Bird Corp., whose propane autogas school buses often make headlines, says it is expanding its compressed natural gas (CNG) product line in order to meet demand from customers.
Blue Bird has announced its will start producing its first CNG-powered Type C Vision bus in 2016. The manufacturer says the new model will complement the Type D CNG bus it currently offers.
Furthermore, the new CNG school buses will be a continuance of Blue Bird's partnership with Ford and ROUSH CleanTech and will feature the same engine configuration as Blue Bird's propane-powered buses: Ford's 6.8-L V10 engine and a fuel system from ROUSH CleanTech.
Todd Mouw, vice president of sales and marketing for ROUSH CleanTech, comments, "We very much enjoy the collaboration with Blue Bird. Over the past four-plus years, this team leads the way with more than 6,000 propane autogas buses deployed – driving well over 60 million miles – and we are excited to add this CNG offering to our stable of industry-leading diesel alternatives."
Trey Jenkins, Blue Bird's vice president of alternative fuels, notes that although customers enjoy the company's Type D, or transit-style, CNG buses, several school districts have called for a Type C option.
"If you look at markets such as California and some parts of Florida, they are already using the transit models and have heavily invested in the infrastructure for CNG, so they don't have that cost barrier to CNG, " explains Jenkins. "However, the more we met with them, it became very apparent that they wanted to transition to a more conventional model. So, as we looked around and did our due diligence, it made sense to take everything we had learned from our transit CNG and come to market with an offering for a Type C CNG."
After all, Jenkins says, "You could either choose to bring the product out and maintain a loyal relationship with a customer, or a competitor could take that customer."