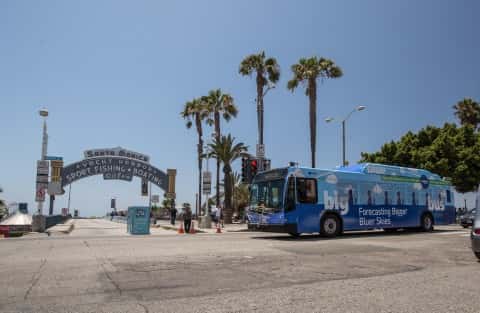 The City of Santa Monica's Big Blue Bus (BBB), whose entire fleet consists of alternative fuel vehicles, has become one of the U.S.' first municipal transit authorities to fuel its buses using renewable natural gas.
BBB has been fueling its liquefied natural gas (LNG) and compressed natural gas (CNG) motor coaches with LNG supplied by Clean Energy Fuels Corp. since 2012. As the transit agency explains, BBB has an on-site fueling station, which features two dispensers and also processes CNG from the LNG.
Earlier this year, BBB modified its original agreement with Clean Energy to transition the supply of LNG for its fleet to Clean Energy's Redeem-branded renewable LNG, which is non-fracked methane harvested from organic waste in landfills. According to a Clean Energy, Redeem has fewer impurities than conventional natural gas and is a cleaner-burning fuel source.
With the announcement, BBB has unveiled a new bus ad campaign called "Bigger, Bluer Skies" to emphasize the lower emissions and sustainability of this type of fuel.
"City Council has voiced its support for non-fracked, sustainable sources of fuel, and Redeem delivers a fuel made entirely of waste; a more sustainable product at an equal cost. This makes BBB's partnership with Clean Energy to use the Redeem fuel a win-win solution," says BBB Transit Director Ed King.
"Big Blue Bus is a leader in sustainability, and our ability to partner with it and provide a completely recyclable natural gas fueling option helps reduce emissions locally and shows other cities the power in using Redeem renewable fuel," says Peter Grace, Clean Energy's senior vice president for sales and finance.
BBB currently operates a fleet of about 200 buses in Santa Monica and the Los Angeles area. The majority of the vehicles are CNG, with the remainder being LNG (aside from a couple of electric hybrids).
The transit agency also recently announced it will use $5.9 million in Federal Transit Administration funding to purchase nine replacement CNG buses. The new vehicles will replace buses that have been on the road for over 12 years.