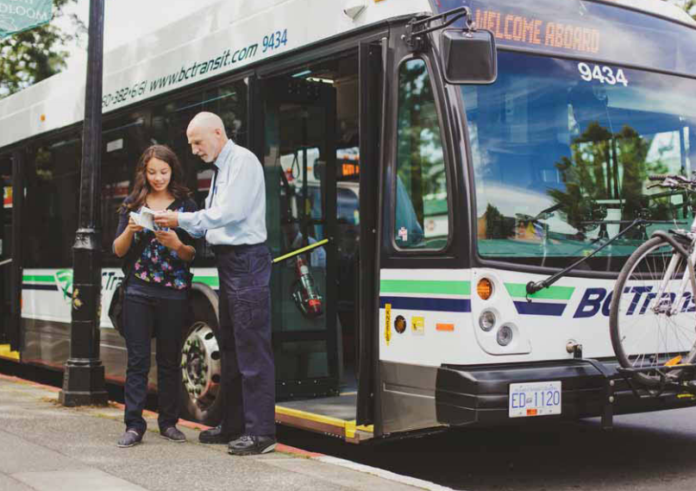 BC Transit has announced that with the delivery of the final 19 XN40 Xcelsior New Flyer buses this winter, the City of Kamloops, British Columbia, now officially boasts a fully compressed natural gas (CNG)-powered conventional fleet.
As previously reported, the new buses are part of the nearly $160 million in federal and provincial funding for BC Transit projects that was first announced in June 2016, together with Premier Christy Clark and Prime Minister Justin Trudeau.
"Through developing greener operations with the adoption of best-in-class technology, BC Transit is demonstrating a commitment not only to environmental stewardship, but also to supporting meaningful, family-supporting jobs for British Columbians in the renewable energy sector," says Todd Stone, Minister of Transportation and Infrastructure. "I am immensely proud of the benefits this brings for all British Columbians, including right here in Kamloops."
As reported, the natural gas buses are fueled at a station built and maintained by Clean Energy Fuels.
"These additional 19 CNG buses will build off the success of the first 25, making Kamloops our second fully CNG fleet," says BC Transit President and CEO Manuel Achadinha. "We look forward to introducing CNG technology to more communities across the province."
As previously reported, the Regional District of Nanaimo became the first fully CNG-powered bus fleet in Canada in February, operating a fleet of 49 CNG buses.
The first 25 CNG buses arrived in Kamloops in 2014/2015 and, in that time, have resulted in a 6% decrease in operating costs per trip and an 8% operating cost recovery increase in 2015/2016. The company says the buses have also proved very reliable, clocking an average of 63,000 kilometers each in their first year of service.
"Connecting Kamloops in the greenest and most affordable way possible has been a consistent priority on my agenda for the city," says Peter Milobar, mayor of the City of Kamloops. "With this landmark CNG announcement, this goal is being concretely realized, and I couldn't be happier or more proud for our city."
The purchase of the 19 new vehicles represents an investment of C$12 million in the Kamloops Transit System. To help offset the initial costs associated with the purchase of the new CNG buses, FortisBC will provide funding of up to C$378,000, representing 40% of the cost differential of CNG buses over diesel counterparts.
BC Transit adds that the new buses also follow the addition of 2,000 hours for handyDART services that were implemented in September 2016 and will support the addition of 3,000 hours of service in the conventional fleet starting in September 2017.