Once the last few vehicles are formally placed into service this spring, the Regional District of Nanaimo in British Columbia will operate a fleet of 49 compressed natural gas (CNG) buses – representing the first fully CNG-powered bus fleet in Canada.
Nanaimo, one of BC Transit's regional districts, first began operating natural gas buses back in March 2014, having ordered 25 New Flyer Xcelsior XN40 buses fitted with Cummins ISL-G 280 hp CNG engines.
Expected to reduce operating costs and the agency's carbon footprint, the CNG buses were deployed to help Nanaimo and BC Transit deliver on their commitment to sustainable and affordable public transportation solutions – especially as a province-wide regulation enacted in 2008 requires all government agencies, including BC Transit, to be carbon-neutral.
The first rollout of natural gas vehicles was a success. According to Jonathon Dyck, communications manager for BC Transit, the first 25 buses resulted in a 2% decrease in operating costs per service hour and 38.5% operating cost recovery for the agency.
The New Flyer buses, which can carry up to 81 passengers each, have also proven their reliability, recording an average of 53,000 kilometers each in their first service year.
Looking to take full advantage of these benefits, BC Transit announced plans last month to add 24 more New Flyer CNG buses to its fleet – a purchase representing a C$15.4 million investment. Slated for delivery this winter, all 24 new buses are expected to arrive by the end of this month and to enter service by the end of spring.
According to Dyck, refueling the new natural gas vehicles will be simple, as Clean Energy built on-site fueling infrastructure back in 2013, ahead of the first vehicle rollout.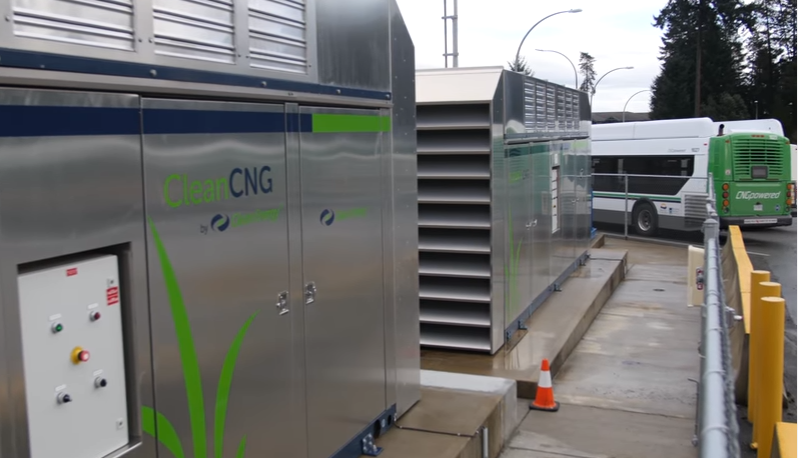 Clean Energy continues to maintain the fast-fill fueling station, which has a total of three compressors and two dispensers with four hoses, located at the Nanaimo Transit Centre on Applecross Road, with utility FortisBC providing the fuel. Dyck notes that each bus stores approximately two days of CNG fuel.
The Regional District of Nanaimo and the province of British Columbia together funded the purchase of the second round of New Flyer buses, although FortisBC committed to providing up to C$480,000 to offset the initial costs. According to BC Transit, this funding from Fortis represents 50% of the cost differential of CNG buses over diesel.
Dyck notes that in addition to being the first 100% CNG transit fleet in the province, the Nanaimo fleet is also the first to be fully equipped with closed-circuit television cameras, which can improve security for passengers and drivers.
At a recent event in Nanaimo, representatives from BC Transit, the province of British Columbia, the Regional District of Nanaimo and FortisBC all gathered together to celebrate the fully CNG-powered fleet and to gain a firsthand experience riding one of the new CNG buses.
BC Transit President and CEO Manuel Achadinha spoke enthusiastically about the benefits of CNG and praised the collaborative effort among the companies.
According to Achadinha, there are a number of benefits to switching to CNG. "With CNG, it really does a couple of things for us: One, it's a far more stable price. It's more predictable. And, it's a cleaner technology, and it's quieter than diesel, as well. From a customer's point of view, we're providing them with a quieter, cleaner technology, and from a taxpayer's point of view, we're providing something that is more cost-effective."
Fortis BC's Mike Bains agreed, commenting that he found the noise reduction to be very significant, enabling event attendees to hear conversations clearly throughout the vehicle during the ride demonstration.
"[CNG] makes sense from a number of fronts," he says. "We plan to be here for the long haul and support companies like BC Transit as adoption in fleets continue over the next number of years."
Event attendees discussed how BC Transit's shift to CNG in Nanaimo demonstrates the success of natural gas as a fleet fuel for commercial vehicles, providing a solid example for other fleet managers.
In considering other alt-fuels, Dyck says the company is always interested in learning and exploring new technologies and that it intends to monitor the development of other alternative fuel systems going forward. Currently, the transit company is exploring the feasibility of fully electric buses and new electric hybrid systems.
Although Nanaimo was the first district in British Columbia to completely switch over to CNG, it will certainly not be the last. In fact, another BC Transit system – the Kamloops Transit District – is already in the process of following suit.
As reported, 25 CNG buses have been in operation in Kamloops for over a year, fueling up at a fast-fill station at BC Transit's bus garage on Ord Road.
According to BC Transit, another 19 natural gas-fueled buses are scheduled to arrive early this year to replace the remaining diesel vehicles in its fleet. Once these are put into operation, Kamloops, too, will boast a fully CNG-enabled transit fleet.
NANAIMO DISTRICT AT A GLANCE
Overall Motorized Fleet –
Transit buses: 49
Clean Fleet –
New Flyer Xcelsior XN40 buses: 49
Clean Fleet Infrastructure –
Fast-fill CNG refueling station at Nanaimo Transit Centre on Applecross Road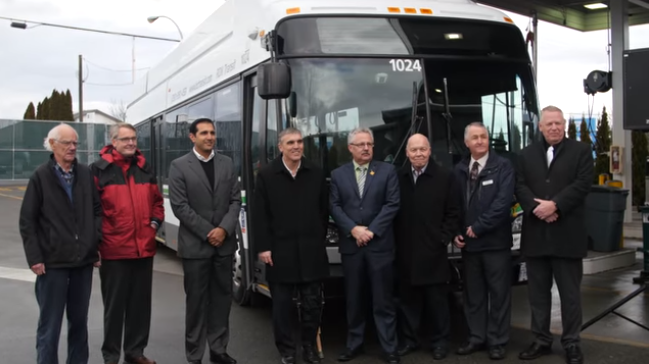 Photos courtesy of BC Transit.