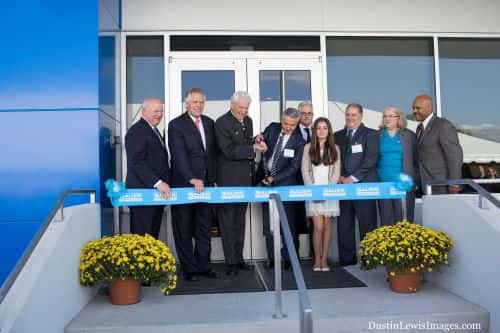 Global manufacturer Bauer Compressors Inc. has completed a major expansion of its U.S. headquarters in Norfolk, Va., spurred heavily by growth in its compressed natural gas (CNG) business line.
The company, which operates branches across the country in Detroit, Los Angeles, Miami and San Francisco, decided to renovate its Virginia facility because it serves as not only the firm's headquarters, but also its sole manufacturing location in the U.S.
Thanks to accelerating sales growth, Bauer simply needed more space in which to operate, according to Joe Stark, vice president and general manager of Bauer Compressors. Before the company broke ground on the expansion in March 2013, they had contemplated adding nearby separate factories from scratch, rather than expanding on the already existing location.
In the end, Stark said, they chose to add on to the site, which has been in operation since 1976 after having been hand-picked by CEO Heinz Bauer for its proximity to a port, an international airport and several interstate highways.
Along with an additional 18,000 square feet of manufacturing space, the renovation boasts a new automated powder-coating facility, an automated panel bender and an upgrade to the company's robotic bending equipment. Porn tube with tons of uncrensored hentai, 3D and cartoon videos. 3D-Porn.BIZ best site in industry of 3D video.
Bauer is also now able to conduct reliability and performance tests for its products, thanks to a new technical evaluation center that puts equipment to the test at a temperature range of -30 to 140 degrees F.
The company provides compressors for a range of industries, including plastics technology and industrial air and gas. These facility upgrades will enhance the manufacturing process for all of these sectors, as well as for CNG.
Indeed, Bauer's portfolio of CNG equipment has undergone a redesign 'from the ground up,' according to Stark. For systems ranging from 5 hp to 300 hp, he said, Bauer has purchased new equipment to add new capabilities and 'better manage the growth' of a burgeoning CNG market.
Stark touted 'very aggressive growth' projections for the company overall, with a long-term goal of growing company sales by 10% every year. Since March of last year, he said, Bauer has welcomed 80 new employees and expects to add 70 more in one to two years.
He noted that Bauer's involvement in the CNG arena extends beyond being a supply-chain partner: The company, which converted its forklift trucks to run on CNG nearly 20 years ago, hosts an on-site CNG station in Norfolk. Although it is for company use only, Bauer has been talking with city officials about the possibility of separately opening a larger, limited-access station for the public.
The company's private CNG station, Stark added, is a way to showcase CNG technology to customers – as well as, of course, a source of fuel for Bauer's forklift fleet and a recently converted service truck. He explained that the company is steadily migrating its fleet to natural gas.