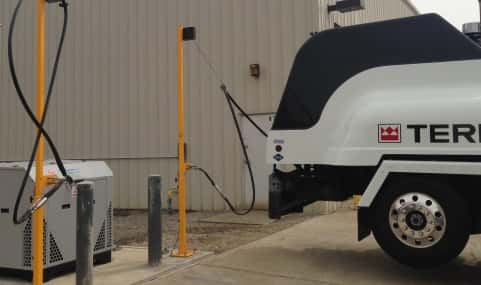 Ozinga Energy has completed the installation of CNG equipment from Bauer Compressors Inc. to support the fueling of heavy-duty concrete mixer trucks.
The Terex Construction business unit of manufacturer Terex Corp. recently introduced its CNG-powered FD5000 'Great Lakes' and related front-discharge mixers. Ozinga Energy's new CNG refueling setup will be used primarily to fuel the CNG trucks that come off the assembly line at Terex's plant in Fort Wayne, Ind. – the company already has orders for more than 25 units and is providing quotes to customers for additional trucks.
'Ozinga Energy is our one-stop for all CNG fill station, facility upgrades, training and maintenance needs,' says Mike Johnson, systems engineer with Terex.
Bauer Compressors provided its Micro C120-9 unit for the project, paired with time-fill posts supplied by Bristol Clean Energy. Bauer's small-scale, time-fill CNG system will enable Terex to fill the brand-new mixers overnight: the Micro C120-9 is rated for a fueling output of 3.2 to 4.5 GGE per hour. Local utility NIPSCO supplies the natural gas to the CNG equipment.
Ozinga Energy is a unit of Ozinga Bros Inc., whose ready-mix operations use a fleet of more than 100 mixers powered by CNG. Ozinga Energy will be installing a methane monitor at Terex's facility and providing ongoing support for the CNG system.