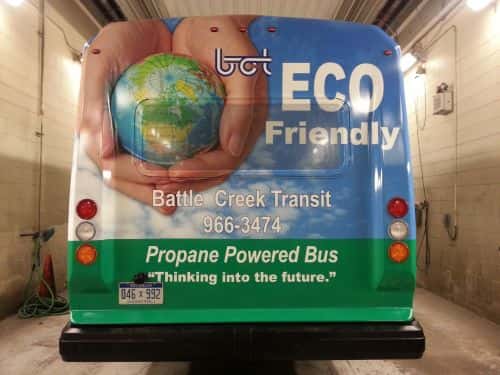 The City of Battle Creek, Mich., transit department has added two propane autogas shuttle buses to its fleet.
According to a city press release, the new shuttles will seat up to 10 passengers and operate under the city's door-to-door transportation service, Tele-Transit. The shuttles, which have large decals on them promoting their eco-friendliness, are expected to be on the road early this month.
The vehicles were purchased using a federal Congestion Mitigation and Air Quality grant, along with a 20% state match; there was no cost to the city. The city says it chose propane because of the cost savings, a smaller environmental footprint and the fact that, also with the help of grants, the city's fleet services division will install a propane fueling station this summer.
Â
"We are very excited and proud that the city is deploying alternative fuel vehicles to facilitate cost savings and improve the air quality in our area," says Battle Creek Transit Manager Rich Werner. "And we think they look great."
The city says staff training for the new vehicles will be minimal, though they will receive some training on special maintenance for the buses and transit utility workers will be trained on fueling procedure.
The city notes the transit department has received grant approval for one more small propane bus that will be ordered within the next year, as well as has funding approval to retrofit other small buses for propane fuel tanks.
Photo courtesy of the City of Battle Creek