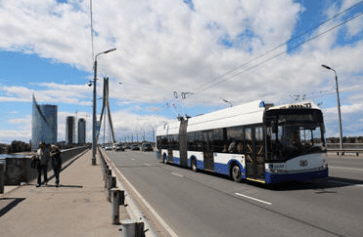 Ballard Power Systems has signed a long-term sales agreement (LTSA) with Solaris Bus & Coach, a bus original equipment manufacturer headquartered in Poland, for the sale and supply of fuel cell modules to support deployment of Solaris fuel cell buses in Europe.
As reported, an initial order has been placed under the LTSA for 10 FCveloCity-HD fuel cell modules, with deliveries planned to start in 2017.
Ballard says each 85 kW FCveloCity-HD fuel cell module that has been ordered will be deployed as a range extender in a Solaris Trollino model low-floor trolley bus. Solaris has signed a contract with Rigas Satiksme, the transport operator in the city of Riga, Latvia, for 10 of the Trollino trolley buses.
According to Ballard, these fuel cell buses represent a highly flexible clean energy mass transportation solution, as they will be capable of operating on routes that have no overhead or catenary wiring.
Solaris is a major European manufacturer of city, intercity and special-purpose buses, as well as low-floor trams. Since the start of production in 1996, Solaris has manufactured over 15,000 vehicles for delivery to 30 countries.
Ballard says the Solaris Trollino model articulated bus that will be delivered to Rigas is 61.5 feet long and is equipped with a battery. The onboard fuel cell module will engage as the trolley bus moves into any portion of its route that does not have catenary wiring, thereby extending the operating range of the bus.