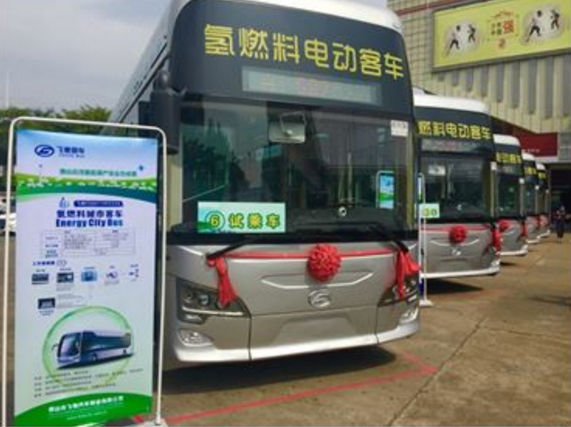 Ballard Power Systems has announced the commissioning and deployment of an initial 12 fuel cell-powered buses in the District of Sanshui, in the City of Foshan, in the Chinese province of Guangdong.
According to Ballard, the buses will be operated by Foshan Sanshui Guohong Public Transit Co. Ltd., on a demonstration route from Gaofeng Park Station to Shuidu Industrial Park Station.
The company says the fuel cell buses are 11 meters in length and feature advanced safety systems, 80-person capacity, anticipated driving range in excess of 300 kilometers, expected hydrogen gas consumption of less than 6.5 kilograms per 100 kilometers, zero tailpipe emissions and remote monitoring. Unlike many battery-electric bus routes, the transit route in Foshan will not require any catenary wires or on-route recharging.
"In September 2015, we announced the planned deployment of 300 fuel cell-powered buses in Foshan/Yunfu," said Randy MacEwen, Ballard's president and CEO. "Our program consortium has made considerable progress over the past year, including localization of Ballard-designed fuel cell engines, establishment of a fuel cell bus manufacturing facility, local procurement activities, development of systems integration capabilities, national permitting of a fuel cell bus platform, preparations for hydrogen refueling infrastructure and development of our China service team."
"Now, the first installment of zero-emission fuel cell buses is hitting the roads in Foshan, with the commissioning of an initial 12 buses in passenger service," he continued. "This marks the largest deployment of fuel cell buses in China's history. The Foshan and Yunfu governments are demonstrating strong vision and leadership by solving a growing need for mass urban transit while responsibly addressing local air quality and stimulating local economic development."
Ballard's program partners include the following:
Guangdong Nation Synergy Hydrogen Power Technology Co. Ltd. , providing 85 kW fuel cell engines designed by Ballard;
Foshan Feichi Bus, manufacturer of the buses;
Shanghai Reinventing Fire Technology Co. Ltd., a Chinese fuel cell vehicle systems integrator that has integrated the fuel cell engines into the Feichi buses; and
Zhangjiagang Furui Special Equipment Co. Ltd., a Chinese company in liquefying, storage, transit and application of liquefied natural gas (LNG), including LNG and compressed natural gas vehicle gas filling stations and is expected to be the provider of hydrogen refueling infrastructure.
Xu Guo, vice mayor of the city of Foshan/Yunfu, said the zero-emission fuel cell buses have long range, fast refueling and outstanding passenger comfort, and the city expects additional routes to be commissioned in the coming months.