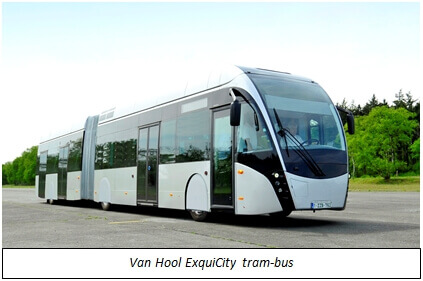 Ballard Power Systems has accepted a letter of intent to provide FCveloCity-HD 100 kW fuel cell engines to power eight ExquiCity tram buses being built by Belgium-based Van Hool NV, a Ballard partner in Europe, for delivery in Pau, France.
The systems are scheduled to be delivered to the Syndicat Mixte de Transports urbains – Pau Portes des Pyrénées and Société de Transport de l'Agglomération Paloise during the second half of 2019.
According to Ballard, these will represent the first hydrogen bus routes in France and the world's first hydrogen tram buses for a full bus rapid transit system.
The hybrid buses will use fuel cells for primary power and lithium batteries for additional power when needed; the only emission will be water vapor. Each tram bus measures over 18 meters long (over 60 feet), has capacity for 125 passengers and can operate more than 300 kilometers (185 miles) between hydrogen refueling, which takes just 10 minutes to complete, says Ballard.
"We are excited to see continued market expansion of fuel cell-powered mass transit vehicles in Europe, as typified by this tram bus project," comments Rob Campbell, chief commercial officer at Ballard. "This is a further sign of the growing importance of zero-emission fuel cell solutions globally."
The tram bus deployment in Pau is funded by Europe's Fuel Cells and Hydrogen Joint Undertaking programs. GNVERT, a subsidiary of ENGIE, will construct and operate the hydrogen refueling stations for the buses. Ballard expects to firm up contract and delivery details prior to the end of 2017.