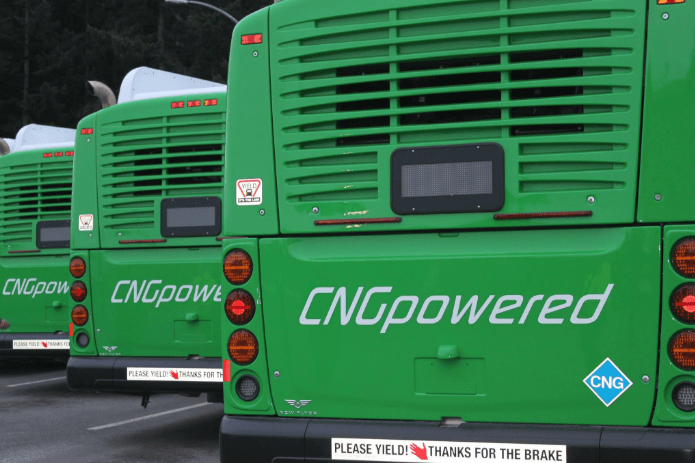 The City of Kamloops in British Columbia has approved plans to upgrade the city's entire fleet of transit buses to compressed natural gas (CNG) vehicles after a demonstration showed these buses perform well in all four seasons while garnering significant savings in operating costs.
Following the construction of a fast-fill fueling station, 25 CNG buses have been in operation for over a year, and another 19 will begin arriving in early 2017 to replace the remaining diesel buses – making Kamloops a fully CNG-enabled transit community.
"The results from the CNG pilot programs in Kamloops and Nanaimo have been a resounding success," said Todd Stone, minister of transportation and infrastructure. "Not only are these buses a cleaner-burning fuel alternative that benefits our environment and furthers the province's action plan to reduce emissions, but they've proven to be more cost-effective than their diesel counterparts. This is a win-win investment, with positive impacts for the long-term."
The city is projecting a savings of approximately C$290,000 in operating costs for 2017 as a result of the 19 new CNG buses.
According to the city, this investment is part of the recently established Public Transit Infrastructure Fund that is providing BC Transit-served communities with almost C$160 million in federal and provincial funding for transit improvement projects throughout the province.
Along with the environmental benefits, the new CNG buses will come with modern technologies to bring Kamloops into the 21st century of transit ridership. Upon their arrival in early 2017, all Kamloops buses will be equipped with closed-circuit TV to increase the safety of passengers and drivers. BC Transit will also go to tender this fall for new, real-time technology that will allow customers to access precise schedule information to plan their trips with more accuracy.
"The investment in CNG reinforces our commitment to sustainable solutions while providing cost-effective services to the community of Kamloops," said Manuel Achadinha, CEO and president of BC Transit.
In partnership with local governments, BC Transit provides access to public transit to more than 1.6 million British Columbians in 130 communities outside Metro Vancouver.