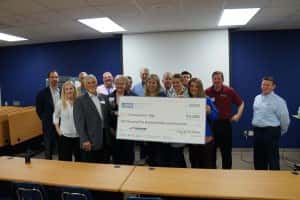 On Wednesday in Texas, the Propane Education & Research Council (PERC) donated $2,500 to Friendswood Junior High School in recognition of the school's propane-powered bus fleet.
The donation is part of PERC's recently announced campaign to educate consumers about the benefits of transitioning away from diesel. The council has partnered with journalist and former teacher Jenna Bush Hager and the nonprofit Adopt a Classroom to donate more than $30,000 nationwide to teachers at schools adopting propane buses.
In 2012, Friendswood Junior High began transitioning its fleet to the alternative fuel. Today, 12 of its 50 buses run on propane autogas, with three more of Thomas Built Buses' Saf-T-Liner C2 vehicles on order. The C2 buses are powered by the liquid propane injection (LPI) system from CleanFUEL USA.
Mike Jones, transportation director at the Friendswood Independent School District, said he's pushing for an all-propane fleet. According to Jones, "it's a complete win-win" for Friendswood.
"The fuel is cheaper, the infrastructure is simpler and it's cleaner for the environment," he added. "The new diesel models come with the aftertreatment systems on the exhaust. We don't have to worry about any of that with the propane."
"Making the switch to propane-powered buses is a no-brainer for school districts," said Curtis Donaldson, founder and managing director of CleanFUEL USA. "Schools are saving thousands in fuel costs, but more importantly, students are reaping the benefits; propane buses eliminate the amount of diesel exhaust fumes as well as running quieter, meaning a cleaner and less chaotic ride for everyone."
Photo courtesy of the Friendswood Independent School District