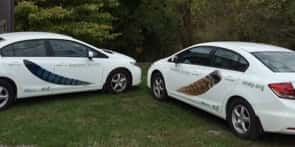 The Audubon Society of Western Pennsylvania recently acquired two compressed natural gas (CNG)-fueled Honda Civics through the support of the EQT Foundation, the charitable arm of EQT Corp., and Honda North. The group says the cars will be used to transport Audubon employees to school and community outreach programs across the region.
"We are excited to partner with EQT and Honda North to bring our programs into the community while significantly reducing Audubon's carbon footprint," says Jim Bonner, the group's executive director. "CNG cars have cleaner emissions than gas-powered cars. They have similar fuel economy, and the compressed natural gas is produced here in the United States."
One of the CNG Honda Civics will be based at Beechwood Farms Nature Reserve in Fox Chapel, while the other will be based at Succop Nature Park in Butler. Audubon Society of Western Pennsylvania notes the cars did not require any modifications and have been averaging between 35-40 miles per gallon in city driving use. The cost of CNG is also much cheaper than gasoline, averaging about $2 per gallon equivalent, the group adds.
Notably, Honda announced earlier this year that it is discontinuing its CNG-powered Civic. For more information about that and related analysis, click here.
Photo courtesy of the Audubon Society of Western Pennsylvania's Facebook page