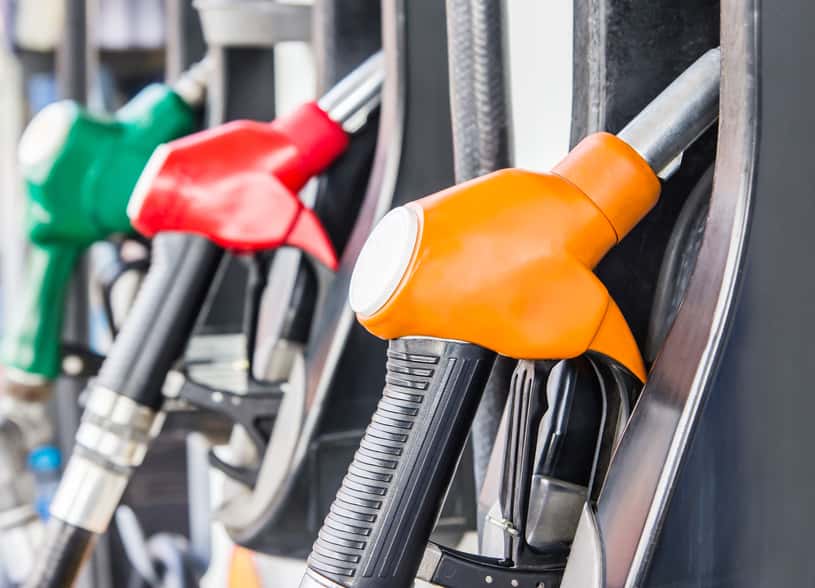 The American Transportation Research Institute (ATRI), in conjunction with the University of Michigan Transportation Research Institute and research sponsor ExxonMobil, has released the results of its recent investigation of fleet fuel economy and fuel usage in the U.S.
According to the report's abstract, "The main objective of this survey was to understand the current on-road fuel economy performance of heavy-duty truck fleets and the effects of fuel-saving technologies, strategies and regulations on such fleets. Also of interest in this survey were various fuel-saving methods fleet managers have employed that have been beneficial, as well as those that have not. Fleet managers were asked to provide overall fleet characteristics and fuel economy information, including their views regarding current and future technologies, strategies, alternative fuels and regulations."
Fully completed surveys were received from 96 individual heavy-duty fleet managers who operate a combined total of just over 114,500 truck-tractors and approximately 350,000 trailers.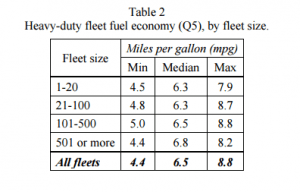 ATRI reports that the median heavy-duty, fleet-wide fuel economy was recorded at 6.5 miles per gallon. According to the survey, this was achieved through the use of a variety of fuel-saving technologies, with the typical fleet hauling 2.1 million tons of cargo 10 million miles annually. Fuel economy generally increased as fleet size increased, with a 0.5 mpg difference in median values between the smallest and largest fleet categories, as shown in Table 2.
The report noted that the most common fuel-saving technologies on the truck-tractor were aluminum wheels (90.4%), speed limiters (84.0%) and low-rolling resistance dual tires (76.1%), while the most common fuel-saving technologies on trailers were low-rolling resistance dual tires (81.4%), aluminum wheels (71.6%) and weight-saving technologies (64.8%).
The truck-based fuel-saving technologies that met the most resistance were hydraulic hybrids and hybrid electric drives, as the least currently used technologies.
"This report shows which technologies fleets are using and which ones they are more skeptical about," comments Steve Niswander, vice president of safety policy and regulatory relations with Groendyke Transport Inc. and chairman of ATRI's Research Advisory Committee. "It also serves to highlight the difficulties fleets face when deciding which technologies are the best investments."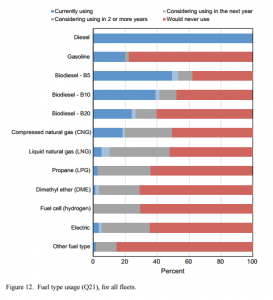 As for fuel type, every heavy-duty fleet included in this survey currently reported using diesel fuel, with biodiesel blends – B5 (49.4%), B10 (39.0%) and B20 (24.0%) – being the most common alternative fuels in use.
Fleet managers reported the top advantages of specific alternative fuels as 1) lower in cost; 2) cleaner in reduced emissions; and 3) more available than other certain alternative fuels, while the disadvantages of specific alternative fuels were 1) having low, or no, availability or infrastructure for distribution; 2) increasing cost overall; and 3) possibly lowering fuel economy for their fleets.
When it comes to payback, the survey noted that the smallest fleets require faster payback periods than medium and large fleets when investing in fuel-saving technologies or when considering switching their heavy-duty fleets to an alternative fuel. The smallest fleets had a median payback period of 12 months, while the average fleet reported 24 months.
Lastly, as for the impact of regulations and policies, the report stated that nearly all fleet managers feel that the new U.S. Environmental Protection Agency heavy-duty emissions regulations will lead to higher or significantly higher truck operating costs, and all fleet managers surveyed feel that such regulations will lead to higher or significantly higher new truck purchase costs.
The Technical Report, titled A Survey of Fuel Economy and Fuel Usage by Heavy-Duty Truck Fleets, and the executive summary are available here.
Images courtesy of The American Transportation Research Institute.