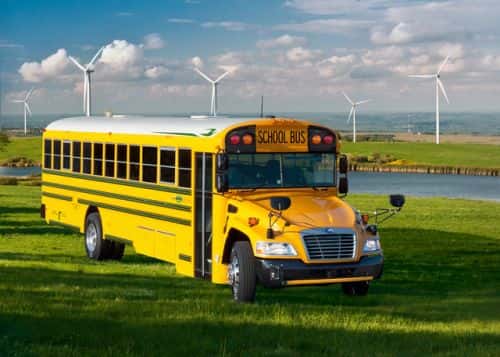 Arizona-based Mesa Public Schools has purchased 61 additional propane-powered school buses from Blue Bird Corp., bringing the district's total autogas fleet to 89 units.
Ron Latko, the district's director of transportation, has aggressive goals for his clean fleet.
'We plan to keep coming back for more until we are 100 percent propane-powered,' he says. 'These propane autogas buses have surpassed our expectations in how smooth and effortless they run and how easy they are to service.'
Mesa Public Schools ordered 55 Blue Bird Vision 77-passenger buses and six 42-passenger wheelchair-accessible buses. The Vision features the Ford 6.8-liter engine paired with propane autogas fuel technology from ROUSH CleanTech. These buses meet both U.S. Environmental Protection Agency and California Air Resources Board certifications.
Latko says the fleet used bond funds to purchase the 61 new Blue Birds, but future vehicle acquisitions will be funded directly from the fuel savings realized from the use of autogas. The district estimates that it will save more than $4.4 million in operating costs over a five-year period. That equates to a savings of 37.7 cents per mile.