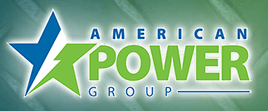 American Power Group Corp. has announced that its subsidiary, American Power Group Inc. (APG), has signed a multiyear, dual-fuel dealer/installer agreement with Rush Truck Centers to initially cover 14 states.
According to the company, those states include Alabama, California, Colorado, Florida, Georgia, Illinois, Indiana, Missouri, North Carolina, Ohio, Oklahoma, Tennessee, Virginia and Texas.
APG says it has also added Momentum Fuel Technologies' compressed natural gas (CNG) fueling tanks and systems to APG's Qualified CNG Tank Program.
Lyle Jensen, American Power Group Corp.'s CEO, says, "The addition of Rush Truck Centers and Momentum Fuel Technologies to APG's existing network of dual-fuel dealer/installers and natural gas tank suppliers provides APG's dual-fuel customers with unparalleled sales, service and support across North America. Several Rush Truck Centers locations have already completed installation and service certification training and have completed installations for one of our largest customers in Oklahoma utilizing the Momentum CNG Fuel System."
He adds, "Rush Truck Centers has made significant investments in expanding the sales and service of natural gas vehicles, and we look forward to mutually growing the natural gas conversion market, with specific focus on the 13 L to 15 L heavy-haul segment, where APG's dual-fuel technology is the only effective alternative fuel solution."
Momentum Fuel Technologies, headquartered in the Dallas-Fort Worth Metroplex, offers complete CNG fuel system solution for Class 6-8 vehicles.