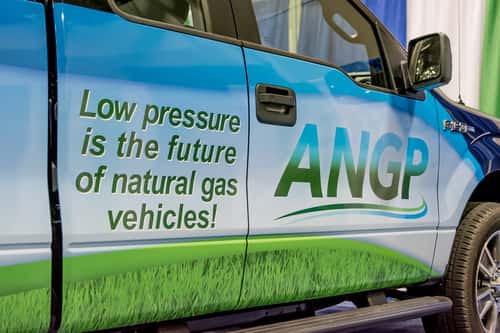 Adsorbed Natural Gas Products Inc. (ANGP) says it is only months away from notching the official commercialization of its adsorbed natural gas low-pressure storage and delivery system for natural gas vehicle fleets.
The company's platform is supported by technology that was developed at the University of Missouri. ANGP has the exclusive license for this intellectual property, which involves an activated carbon-based adsorbed natural gas storage medium for automotive applications.
In short, the technology is based on a porous adsorbent material that densely stores natural gas molecules at low pressures: 900 psi and lower. ANGP partner MWV Specialty Chemicals developed and manufactures the material, Nuchar FuelSorb.
ANGP co-founder and CEO Bob Bonelli tells NGT News that he expects the first purchase orders for the ANGP system to be inked by December, with wider market commercialization early in the first quarter of 2016.
He further notes that ANGP has identified the light-duty vehicle segment – whether passenger vehicles or pickup trucks – as its first target market. The ANGP system would be integrated in a bi-fuel gasoline/diesel and natural gas configuration. The company is working with a number of large fleets as early adopters and is also engaged with three vehicle OEMs.
ANGP's second target market comprises small heavy-duty fleets – say, six or fewer vehicles. The ANGP system would be used in a diesel dual-fuel setup, primarily with fleets that return to base at the end of work days/shifts.
Bonelli also says the company will be introducing the first seamless storage vessel for natural gas at the NGVAmerica annual conference in Denver next month, with full NGV2 certification for that vessel to be secured by the end of this year. A small-scale home refueler – one that is also applicable to small commercial and industry usage, such as by fleets – is in development.
In addition to MWV Specialty Chemicals, the 'team of giants' that Bonelli says are partnered with ANGP on its system and commercialization includes Worthington Industries (pressure vessels), Aspen Compressor and Midwest Energy Solutions Inc., which builds natural gas fueling stations and works on NGV conversion systems and technology.