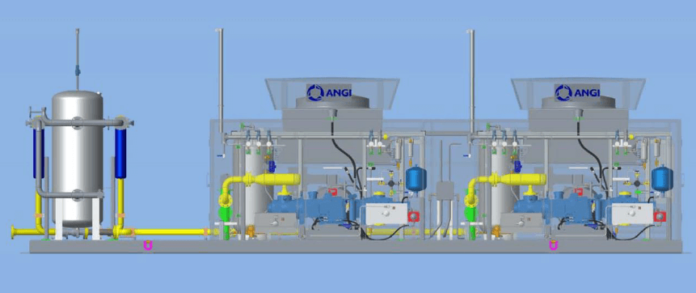 ANGI Energy Systems LLC has manufactured, and will be shipping in June, turnkey equipment for a trackside fast-fill fueling station for locomotive compressed natural gas fueling.
For the Indiana Harbor Belt CNG rail project, ANGI says it designed a new CNG fueling station specifically for rail, leveraging its longtime experience in fueling a wide range of vehicle and virtual pipeline (thermal transfer) applications.
Tim Boyle, ANGI's director of international sales and business development, says, "It was awesome to be part of a design team of experts – OptiFuel Systems – engine combustion design expert, CNG fuel system experts, CNG tank experts and locomotive manufacturing experts – in a collaborative effort to design a CNG system, from gas meter to fuel injection, to optimize all aspects of the CNG fueling circuit."
According to the company, ANGI's design incorporates components of transit, trailer and heavy-duty truck fueling to leverage time-tested fueling methods to design a fast-fill high-pressure 4,500 psig fueling system. It integrates ANGI fueling algorithms and onboard locomotive telemetry to ensure accurate and full target fueling in a challenging trackside rail environment.
Michael Nicoletti, director of mechanical operations, adds, "Introducing CNG as a viable fuel into the freight rail industry is a role that the [Indiana Harbor Belt] embraces in both its unique challenges and operational and environmental rewards."