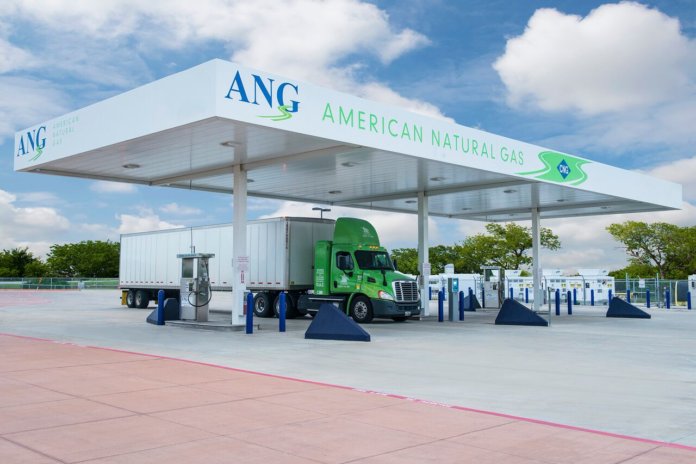 American Natural Gas (ANG), a distributor of alternative motor fuels and an operating subsidiary of HC2 Holdings Inc., has completed the modernization of 18 recently acquired compressed natural gas (CNG) fueling stations across the Midwest, Southwest, and West Coast.
The upgraded stations were acquired by ANG through the separate purchases of Constellation CNG LLC, formerly a subsidiary of Constellation, and Questar Fueling Company, a subsidiary of Questar Corp.
According to ANG, the upgrades include rebuilt compressors to improve reliability and add remote access controls and 24-hour surveillance systems; new Bennett Crind dispensers at seven of the locations with NGV1 and NGV2 nozzles for exact temperature compensation; upgraded IT systems to support remote monitoring; and upgraded POS systems for a seamless customer experience.
In tandem with the station upgrades, ANG also unveiled a new corporate website, AmericanNaturalGas.com, which features an interactive Station Locator Map and a personalized email and text messaging alert system for customers designed to help ensure that every user is well informed about any changes at a station, planned lane closures, etc.
"Based on driver feedback, problem-solving with our partners, and sourcing the most powerful equipment available, we have completely transformed these fueling stations. Coupled with our new Web-based alerts system, we believe we are raising the bar on customer service in the CNG industry," says Drew West, CEO of ANG. "CNG is the best choice for those in the transportation industry that want to adopt a reliable, ultra-clean-burning technology."
"As anyone in the CNG industry knows, the difference is in the fueling experience, and these stations now represent the state of the art in the industry," adds Brent Tesla, vice president of operations at ANG. "Our maintenance and operations team was involved in every step of the modernization process to ensure every detail was considered and that these stations will surpass our customers' expectations."
The upgraded stations are located at the following addresses:
2323 W. Pleasant Center Rd., Fort Wayne, IN 46819
2240 N. Michigan Ave., Greensburg, IN 47240
510 S. Post Rd., Indianapolis, IN 46239
290 Yost Dr., Lafayette, IN 47941
420 Steven's Way, Seymour, IN 47274
2720 Needmore Rd., Dayton, OH 45414
5343 Distribution Dr., Findlay, OH 45840
1001 South 65th Ave., Phoenix, AZ 85043
5625 Southwest Wenger St., Topeka, KS 66609
6580 Kansas Ave., Kansas City, KS 66111
650 East Centre Park Blvd., De Soto, TX 75115
4200 Duncanville Rd., Dallas, TX 75236
5800 Mesa Dr., Houston, TX 77028
5348 East Houston St., San Antonio, TX 78220
5260 West 2400 South, West Valley City, UT 84120
35750 Highway 58, Buttonwillow, CA 93206
14512 Aliso Dr., Fontana, CA 92337
10405 East 40th Ave., Denver, CO 80239
Photo courtesy of ANG: The company's newly upgraded CNG station on Duncanville Road in Dallas