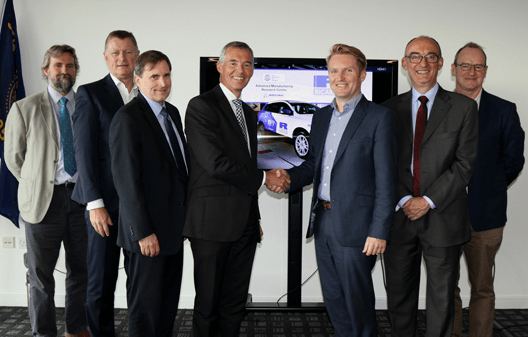 The University of Sheffield Advanced Manufacturing Research Centre (AMRC) has entered into a memorandum of understanding (MoU) with global engineering company Ricardo as part of a collaboration on electrification and low-emission powertrain projects.
Under this agreement, Ricardo will provide its experience of working within a variety of ground transportation sectors, such as automotive, commercial and industrial vehicles, motorsport, motorcycles and rail. The AMRC says it aims to develop innovative products and manufacturing methods for the automotive and vehicle production industry that will increase capacity, capability and competitiveness for U.K. companies, working to advance low-emission powertrain and vehicle production.
As reported, the MoU builds on a current relationship between the AMRC and Ricardo, which began with Ricardo sponsoring a program of doctoral students supported by the University of Sheffield's Faculty of Engineering and AMRC. These studentships are jointly investigating electric motor design and manufacture.
"A primary theme of this collaboration will be powertrain electrification, which is a key driver of the automotive industry and shall be addressed by Ricardo and the AMRC jointly. This will be alongside the development of motors, batteries and power electronics with cutting edge functional design, as well as manufacturability," said the AMRC's automotive sector lead, Ben Kitcher.
The MoU was signed at the AMRC Factory of the Future on Sept. 29 and will bring about a more comprehensive period of collaboration to cover joint research and development projects, according to the companies.
"This agreement represents a significant milestone in the development of Ricardo's research collaboration with the AMRC," commented Mark Garrett, Ricardo's chief operating officer. "Our collaborations such as this with some of the U.K.'s leading academic research groups, allows us to leverage both our collective intellectual capital and the investment of Ricardo in advance R&D, in order to bring forward advanced technologies that can help deliver a lower carbon and more sustainable future for transportation."