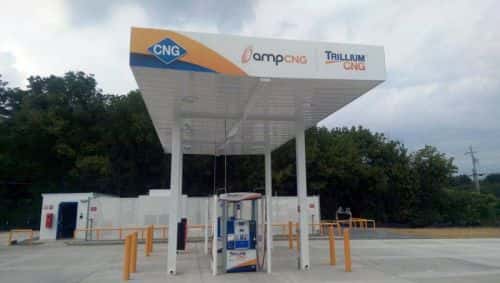 amp Trillium LLC, the joint venture between ampCNG and Trillium CNG, has opened a public-access compressed natural gas (CNG) station in Newport, Tenn.
Strategically located at the Time Out Travel Center at 1130 W. Highway 2570, the new station is a convenient place for CNG-powered trucks and cars to refuel as they travel through western North Carolina and eastern Tennessee, according to amp Trillium.
The joint venture says the Newport station services CNG vehicles 24 hours a day, seven days a week and can fuel multiple Class-8 trucks simultaneously, thanks to Trillium CNG's proprietary fast-fill hydraulic intensifier compressors. amp Trillium notes the station's close proximity to I-40 makes it an ideal location for the facility's anchor customer.
'This site is a great addition to the growing number of public CNG stations in Tennessee and opens up the I-40 corridor to CNG traffic of all sizes," comments Jonathan Overly, executive director of the East Tennessee Clean Fuels Coalition. "We enjoy working with our member ampCNG and will continue talking to Tennessee fleets to see how this site can help them make the transition to using cleaner-burning, American CNG.'
amp Trillium says it now operates 22 CNG stations across the U.S., including one in nearby Charlotte, N.C., and will keep opening several more in its mission to create a network of CNG stations along trucking corridors throughout the country.