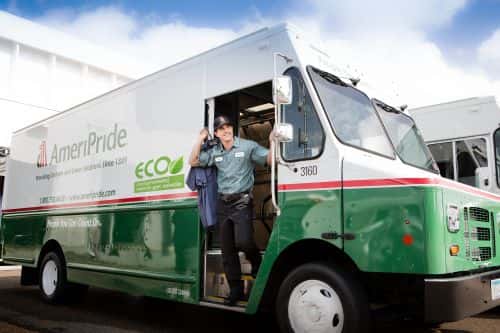 Minnesota-based AmeriPride Services, a textile rental services and supply company serving North America, has announced the availability of its first-ever Corporate Responsibility Report. The company says the report outlines key programs and initiatives AmeriPride is implementing as part of its commitment to environmental sustainability, the health and safety of its employees, and the well-being of the communities it serves.
In addition to sustainability projects such as solar panels, water heater and boiler improvements, and heat reclamation equipment, AmeriPride highlights its alternative fuel vehicle (AFV) program. In fact, the company claims its fleet enhancements and AFVs have reduced the company's emissions by more than 152 metric tons.
In its report, AmeriPride says, "Our corporate fleet department is exploring ways to reduce fuel consumption and greenhouse gas emissions from the fleet. We investigated available technologies, including hybrid, compressed natural gas (CNG), propane and dedicated electric and decided to invest in an alternative fuel program."
According to the report, the company has added to its fleet 15 natural-gas-fueled trucks, six hybrid-electric cargo vans, three hydraulic hybrid trucks and five propane-fueled trucks.
AmeriPride says it successfully integrated the alt-fuel vehicles, "thanks to innovative technologies such as electric vehicles and the improved infrastructure of propane and compressed natural gas distribution stations."
"Our next phase includes the systematic rollout of additional compressed natural gas, propane and hybrid vehicles into our markets of operation," the report explains. "Based on our extensive pilot testing, we will incorporate different technologies in different markets, based on existing infrastructure, types of routes and other factors. We have recently signed purchase agreements for 20 additional propane vehicles, 20 additional CNG vehicles, 10 electric trucks and a CNG tractor to be rolled out in 2015."
The company notes it has also installed advanced telematics technology in all company vehicles, which provides verbal coaching to drivers in real-time and provides notifications to management if safety guidelines are not followed.
Regarding the Corporate Responsibility Report, Bill Evans, president and CEO at AmeriPride, says in a press release, "We're excited to share this snapshot of our efforts to be a sustainability leader in the industry and have a positive impact in the communities we serve.
"As one of the larger players in the industry, the family ownership and management at AmeriPride believe it's our responsibility to use our available resources to test and help advance new environmentally friendly technologies," he continues.
Evans adds that by striving to set the standard for clean operations – both in its facilities and on the roads – the company is often able to pass efficiency and value on to customers.
 The full Corporate Responsibility Report is available here.
Photo courtesy of AmeriPride Services: One of the company's CNG vehicles.